Posted on
Mon, Nov 21, 2011 : 3 p.m.
Milan woman charged with stealing 13 bottles of liquor from Saline store
By Kyle Feldscher
A Milan woman has been charged after being caught with 13 bottles of stolen liquor from Country Market in Saline on Friday, according to Saline police.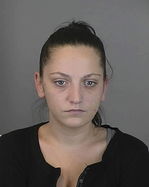 Courtesy of the Saline Police Department
Officers responded to a call from the manager of the store, located at 1335 E. Michigan Ave., at 2:55 p.m. Friday after the manager reported a woman entered the store who had he believed was stealing liquor.
Amanda Willard, 26, was arrested after police stopped her while she was driving away from the area.
The manager had told police earlier in the day he believed Willard was a part of a group of people who were allegedly stealing liquor from the store during the last month. The manager told police that a woman would enter the store and would put items in the cart, including a large amount of liquor, before leaving the store.
The manager said store employees would find the cart near the liquor aisle with all of the items still in it, except the bottles of liquor would be missing. Willard was allegedly seen carrying an over-the-shoulder bag that appeared to be very heavy when she left the store, despite appearing empty when she entered, police said.
That pattern repeated on Friday, according to police. Officers were dispatched after the manager reported seeing Willard in the store. Upon arrival, police saw Willard get into an older model Ford Escort, where two men were sitting inside waiting for her.
Police stopped Willard for driving a car with expired tags and asked her if she had stolen liquor from Country Market. According to police, Willard admitted to stealing the liquor and said it was in the car.
Police confiscated six bottles of Absolut vodka, worth $113.82, and seven bottles of Jim Beam whiskey, worth $118.65, from the vehicle. During a later search of the car, police also found heroin and various drug paraphernalia, according to a police report.
Willard and the two other men were all arrested, according to police. The two men had warrants out for their arrest from other police agencies. Willard was the only person to be charged in relation to the theft from Country Market — Washtenaw County prosecutors declined to press charges against the two men, according to police.
It is unknown if Willard is connected to the theft of 10 cases of Red Bull in October from the same Country Market store.
Detective Don Lupi said Willard was stealing the liquor to feed her heroin addiction. He said these kinds of thefts are becoming more and more common.
"Heroin has had a resurgence in popularity. Â Surprisingly, It's being abused as early as middle school nowadays," Lupi said. "We have been seeing a dramatic increase in the number of possession cases and overdoses of heroin in the last few years."
Willard is being held at the Washtenaw County Jail on one charge each of assault and battery, first-degree retail fraud, second-degree retail fraud, third-degree retail fraud and a local ordinance violation, according to jail records. She is scheduled to be in court at 1 p.m. Nov. 29 for a preliminary exam.
Kyle Feldscher covers cops and courts for AnnArbor.com. He can be reached at kylefeldscher@annarbor.com or you can follow him on Twitter.