Posted on
Sat, Aug 17, 2013 : 5:56 a.m.
Alleyway transformed into downtown Saline's new community space
By Chelsea Hoedl
What was once an unusable weed-filled alley between two buildings in the heart of downtown Saline is now a community space with outdoor seating for restaurants and room for city functions.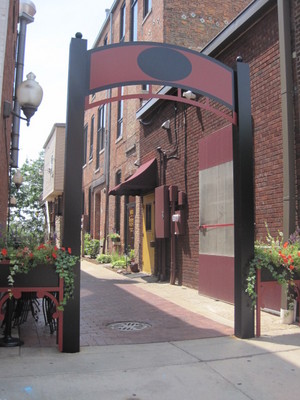 Chelsea Hoedl I AnnArbor.com
Saline Main Street held a naming contest for the newly cleaned up South Ann Arbor Street Alley located behind Brecon Grille. The name will be displayed on the entrance arch, which was installed last week.
Community members submitted 122 entries. A selection committee is being put together to sort through the name suggestions and decide on the winner.
"A lot has been done to the alley and finally we're able to give the space a name," Saline Main Street Manager Bob Rosenberger said. "It was cleaned up, weeds were pulled and an arch in front of the alley was put in that is similar to the structure across the street."
Restaurants that sit in front of the alley are now able to use the space for outdoor seating, Rosenberger said.
"It's being used by the restaurants right now, but we have a contract with the city and the two restaurants that are using the space stating that we can use it for whatever comes up," Rosenberger said. "We have a certain number of days in which the city can use the alley. It can become a public space at any time."
The alleyway that was unused in the past is already being used by community members who are enjoying the Summer Music Series, Rosenberger said.
"This is a great thing for Saline," Rosenberger said. "It gives us another beautiful spot for us to use, it makes the whole area look prettier and anything that encourages people to come downtown is a good thing for Saline, for its community and for its merchants."
Funding for the project was provided by the 'Let's Save Michigan' campaign, the Rotary Club of Saline and the District Rotary, according to Rosenberger.
The Rotary Club of Saline gave $1,200 and the District Rotary gave an additional $600 for the project. The 'Let's Save Michigan' campaign awarded the Alley Project a grant for $500.

View Saline Alley Project in a larger map
Chelsea Hoedl is an intern reporter for AnnArbor.com. She can be reached at choedl@mlive.com.