Posted on
Sun, Dec 4, 2011 : 10:24 a.m.
New Saline indoor farmers market will offer produce throughout the winter
By Lisa Allmendinger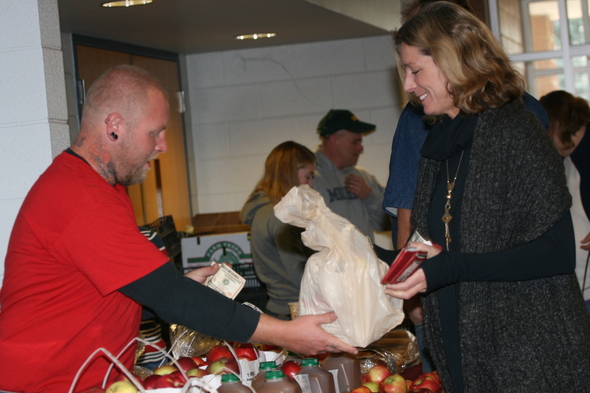 Lisa Allmendinger | Ann Arbor.com
Cheryl Plouff is a regular at several of Saline's farmers markets and says she loves shopping at a new indoor market, located inside a hallway of Liberty School, on Saturdays.
"I stop by here every Saturday, and I have been shopping farmers markets for four years," she said. "I know my vendors and I let them pick it (produce) out once I tell them when and how I plan to use it."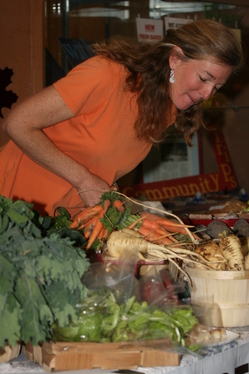 Lisa Allmendinger | AnnArbor.com
Plouff, who says she's known around town as the lady with the dog and cart, said she eats seasonally. "If spinach is in season, I eat spinach."
She said she chooses farmers markets because "the product is handled less. It's fresher and I'm supporting local people."
Plouff was asking Edward D. Dietrich of Green Valley Farms of Gregory to help her with potatoes and onions on a recent Saturday.
Dietrich, a full-time farmer, said he raises produce on 15 of his 138 acres for several local farmers markets. The farm has been in business for 50 years, he said.
Saline Market Manager Nancy Crisp said the new, larger indoor market means that local vendors and residents are now able to purchase locally grown and made products throughout the year at three locations in Saline, which vary by the time of year.
"We'll go through April here, and then go back outside," she said referring to the Saturday and Tuesday markets that take place outside in two locations in Saline.
The indoor market, located at Liberty School, 7265 Saline Ann Arbor Road, has free parking and is open from 9 a.m. to noon through the end of April.
It will also be open on Christmas Eve and New Year's Eve, Crisp said.
At the recent grand opening of the indoor market, there were 32 different vendors, Crisp said, selling everything from produce to artwork. She expects that number to hold steady throughout the winter.
"There's an abundance of produce," she said, including eggs, apples, maple syrup, vegetables, local cheese and bread, fresh roasted coffee, seasonal greens, baked goods and candy as well as hand-crafted items.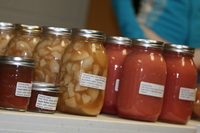 Lisa Allmendinger | AnnArbor.com
"We're excited to have a year-round market with so many local farmers and vendors," said Saline Mayor Gretchen Driskell, adding, "It's a great opportunity to support local entrepreneurs. There are a lot of creative products, plus fresh local greens all winter long. "
Jason Sutherland of Kapnick Orchards of Britton, who is used to braving the elements at a number of local farmers markets, said it was "awesome to be inside. This is a great idea."
He said it was wonderful to see so many items that were grown and made in Michigan. "We need to get back to more local," he said, stressing that produce that comes from less than 100 miles away is handled less and is fresher than items purchased further away.
Plus, he said, markets like the ones in Saline support local farmers.
"I think this is a great idea to continue to bring locally grown products year-round to Saline. It helps the community and our health," said Mark Ouimet, R-Scio Township, who was on hand at the grand opening of the market.
Joan Hutchinson, a vendor from Dexter, said the indoor market was "fabulous. It starts an hour later (than others), it's warm and people continue to stream in. Plus, it has the best samples of any of the markets."
"Nancy does a fabulous job on every detail. She's very particular and this is a great new market," Hutchinson said of the market manager.
Lisa Allmendinger is a regional reporter for AnnArbor.com. She can be reached at lisaallmendinger@annarbor.com. For more Saline stories, visit our Saline page.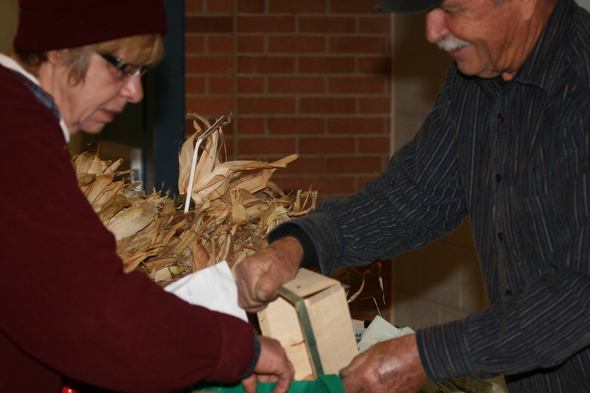 Lisa Allmendinger | AnnArbor.com