Posted on
Tue, Oct 18, 2011 : 5:52 a.m.
Paul Bunten, Saline police chief, to retire in July; seeks organizational changes in department before he leaves
By Lisa Allmendinger
As Saline Police Chief Paul Bunten plans his retirement in July, he's proposing a reorganization of the Saline Police Department.
Bunten wants to promote a sergeant into a lieutenant's position and put that person second in command.
He said the changes were well thought out and proposed to create efficiency, save money and keep the same level of service for residents.
The current organizational chart has a deputy chief as the second in command but with the retirement of Jack Ceo earlier this year, the police department has not filled the position.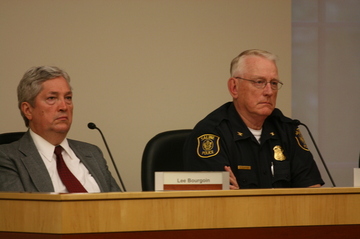 The move to eliminate a deputy chief position and have a lieutenant as the second-in-command, Bunten says, would "spread shift responsibilities over all three shifts and create a model where the second in charge of the department has the requirement to spend significant time on the road."
Under the proposed changes, the department would continue to have two sergeants. During a work session of the Saline City Council Monday night, Bunten said he'd like to promote a sergeant to lieutenant and fill the open sergeant's position at the same time. This way, the lieutenant would work with him until he retires, making it a smooth transition for the new chief.
In fact, when asked for a time frame, he said, he'd like to make the changes within the next three months.
"These ideas didn't come off the cuff," he said. "We've been discussing them for five or six months, since the budget talks."
He said he's been with the department for 17 years and "I've really tried hard to make decisions based on what's best for the city," while adding "one of the reasons I announced my retirement as early as I did was so that I could train the new person through a budget process among other things."
However, Mayor Gretchen Driskell said she'd like to wait until a new chief is chosen to make any changes in the department's organization to allow the new chief to make that decision. "My concern is your replacement might want something different, and I appreciate all the hard work you've done, but I haven't changed my opinion," she said. Councilman Brian Marl supported filling the second-in-command position as quickly as possible. "Whether with a deputy chief or a lieutenant or a sergeant, it should be filled," he said. Bunten said, against the advice of a friend, he made his retirement announcement way in advance so "I could work with this lieutenant until the new chief comes onboard." He said the change would add 35-40 percent additional work to the new chief, "but given the supervisory and organizational efficiencies created by the model, it is not an undesirable outcome."
The former deputy chief, a non-union employee, was making $86,980 and the proposed lieutenant's salary, which would also be a non-union position, would start at $74,435 - an initial savings of $12,545 for the city.
Bunten wants to promote one of the two current sergeants' to the new lieutenant's position. Currently, both are making $70,986, so one of them would get a bump in salary of $3,449. Currently, the organizational chart has a chief and a deputy chief, two sergeants, an administrative assistant and a part-time records clerk. There are eight full-time and three part-time patrol officers and seven non-paid reserves.
In addition, there are three full-time fire and police dispatchers and five part-time dispatchers. There are 17 part-time crossing guards, a full-time crime investigator, a full-time juvenile and crime prevention officer and 17 cadets. The proposed police department organizational chart shows a chief and a full-time administrative assistance and a part-time record's employee.
There would be one lieutenant, who would be second in command, two full-time sergeants and three full-time officers on the day shift. Bunten's proposing two full-time officers on the afternoon shift and three full-time officers on the midnight shift.
Ten part-time auxiliary police would be used, three full-time dispatchers and four part-time dispatchers. There would be 16 part-time crossing guards, one full-time crime investigator, one full-time juvenile and crime prevention officer and 18 part-time cadets.
When asked if an interim second-in-command could be named, Bunten said "I have mixed emotions about that. This would be a non-exempt position and once they leave the union and you give them more money, then they work 'x-amount' of months and maybe you get the job, maybe you don't. Plus, the union doesn't have to take them back."
When City Manager Todd Campbell asked for direction from the City Council, members said they'd like to have more information and another work session on the topic.
"I think this delay is detrimental to the organization and I think we should do this (discuss it at another work session) as quickly as possible," Marl said.
Another work session on the topic is expected to take place on Nov. 7, prior to the next regular city council meeting.
Lisa Allmendinger is a regional reporter for AnnArbor.com. She can be reached at lisaallmendinger@annarbor.com. For more Saline stories, visit our Saline page.