Posted on
Wed, Jan 23, 2013 : 11:11 a.m.
Police: 21 students were on Saline bus involved in accident Tuesday morning
By Kyle Feldscher
This story has been updated to show all the students who were injured in the Ypsilanti crash were in school Wednesday.
Students were on two school buses hit by cars in separate incidents Tuesday in Washtenaw County, including five that had to be taken to the hospital with non-life threatening injuries.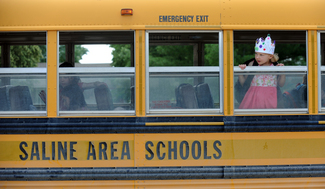 The first incident occurred at 7:30 a.m. Tuesday on Woodland Drive between Maple Road and Industrial Drive. Detective Don Lupi said 21 students were on the bus when a 2005 Toyota hit a patch of ice and slid into the bus' path.
The man driving the Toyota complained of a minor injury, but declined medical treatment, Lupi said. The Toyota was coming around a curve in the road when it hit the patch of ice and the driver lost control. Lupi said he was found at-fault in the crash.
"Due to the conditions of the road, (the Toyota's) speed played a factor," he said.
None of the students on the bus were injured and all were taken to the Saline High School, according to Saline Area Schools officials. There was minimal damage done to the 2009 International bus.
Later on Tuesday, a Washtenaw Intermediate School District bus carrying elementary school students from Ypsilanti Public Schools was rear ended by a pickup truck.
School officials said five of the students on board had to be taken to the hospital after the 3:40 p.m. crash on Prospect Street. AnnArbor.com contacted the Ypsilanti Police Department for more information on the incident Wednesday morning, but more information was not immediately available from department officials.
Initial reports indicated a Ford Ranger rear ended the school bus and the five students were taken to the hospital by Huron Valley Ambulance. The total number of students on the bus and the extent of the injuries to the five who had to be transported to the hospital is still unknown.They were in stable condition, officials said.
WISD spokeswoman Emma Jackson said all five children who were taken to the hospital Tuesday were back in school on Wednesday. The official report wasn't available on the crash and Jackson had no more details to report.
The WISD bus had minor damage, including a slight dent and scratches on the bumper.
Kyle Feldscher covers cops and courts for AnnArbor.com. He can be reached at kylefeldscher@annarbor.com or you can follow him on Twitter.