Police: Woman was drunk, texting before hitting telephone pole and rolling her vehicle
Posted on Mon, Aug 20, 2012 : 5:17 p.m.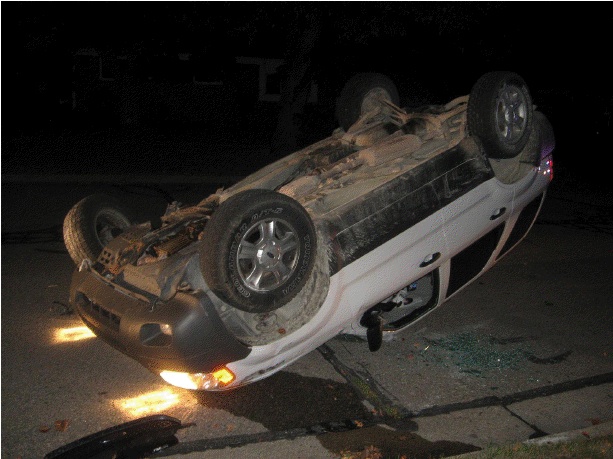 Courtesy of Saline police
A 24-year-old Ypsilanti woman was "super drunk" and texting when her Ford Escape collided with a telephone pole and rolled last week, police said.
According to a Saline police report, officers were sent at 11:26 p.m. Wednesday to Harper Drive and Calder Court for a report of a one-car rollover accident. When they arrived, the woman was outside the Ford Escape holding her bleeding hands up and apologizing.
The woman said she was driving and police immediately noticed the smell of intoxicants coming from her. Her hands had been cut from crawling on glass to get out of the vehicle, but she appeared to be fine otherwise.
The report said the woman had left Dan's Tavern and was driving to her boyfriend's house. She was texting him when suddenly the Escape was rolling over, she told police. She could not tell what had caused the vehicle to roll or what the impetus for the crash was.
There was damage on a nearby telephone pole, seemingly from the crash, according to the report.
The woman took a preliminary breath test that registered at .20 percent, more than twice Michigan's .08 legal limit and more than the .17 percent blood alcohol level required to trigger stiffer "super drunk" punishments. No field sobriety tests were done because of potential injuries the woman may have suffered.
She later complained of chest pain and was transported by Huron Valley Ambulance to St. Joseph Mercy Hospital. While there, she had blood drawn for a formal blood test on her blood alcohol level.
The woman was not immediately processed for operating while intoxicated because she was in the hospital and the case is still open.