Posted on
Tue, Aug 14, 2012 : 5:57 a.m.
Vandals destroy produce and carve swastika into watermelon at community garden
By Kyle Feldscher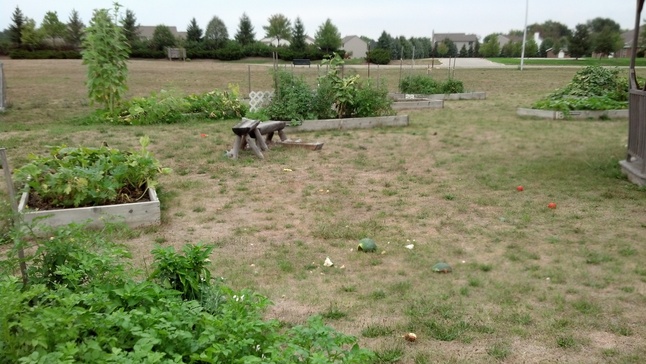 Kyle Feldscher | AnnArbor.com
A post inside the Saline Community Garden bears the words community, health, wisdom and peace around its four sides.
Vandals that smashed produce around the garden and carved a swastika into a watermelon rind must have missed that message.
The garden, located near Woodland Meadows Elementary School off Woodland Drive between Ann Arbor Street and North Maple Road, was vandalized sometime before Monday afternoon. Police responded to the garden just before 3:30 p.m. Monday but it's believed the vandalism happened during the overnight hours.
Tomatoes were tossed about the garden, along with corn, onions, potatoes and watermelons. On one of the watermelons that was placed on a corner of one of the 22 garden beds, someone had carved a swastika into the shell. Detective Don Lupi said messages such as this are a concern for police.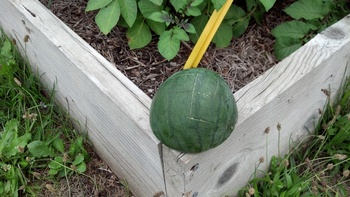 Kyle Feldscher | AnnArbor.com
"This kind of thing is unacceptable and we take it very seriously," Lupi said.
According to the Saline Area Chamber of Commerce's website, the garden community works to promote community building and healthy living. It's been located at the site since May 2007.
John Dahlgren was one of the first people to see the vandalism when he went to tend to his two plots Monday morning. He said originally he thought a dog had caused the damage due to the digging in one of the plots, but he realized it had to be the work of vandals after seeing other produce strewn about the garden and the swastika-covered watermelon.
He said it's a shame that people felt the need to ruin the hard work of gardeners who tend to their plots on a regular basis.
"The community garden is something that's there for the community. People use it and people love it," he said. "It's people's hard work and it shouldn't be taken advantage of like that."
Dahlgren said someone had turned the water on and left it, causing much of the ground to be soaked when he arrived.
The area has garden beds named for famous Salinians throughout the town's history with various vegetables, fruits and other plants growing in them. A gazebo is placed in the middle of all the beds. A gray wallet with black sequins had been left on the table, but investigators found no identifications inside.
A wooden box appearing to be a bird feeder was laid on the ground near logs cut into benches. It appeared as if the vandals had removed it from the gazebo.
It's Dahlgren's first year tending plots at the garden and he said he's not too worried about something like this happening again.
"My personal opinion is it was probably a couple of kids wandering through and they wanted to see what kind of damage they could cause," he said.
Police had no suspects Monday afternoon and were investigating the incident. Anyone with information is encouraged to call the Saline Police Department at 734-429-7911.