Posted on
Sun, Oct 16, 2011 : 1:27 p.m.
Saline Area Social Services in need of more space
By Lisa Allmendinger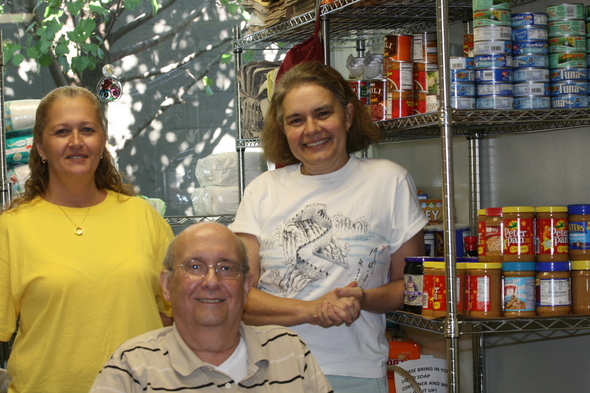 Lisa Allmendinger | AnnArbor.com
Saline Area Social Services
(SASS) is hoping for a little holiday magic this year.
For 50 years, the nonprofit agency has been helping individuals and families get back on their feet, and now officials are hoping to find a bigger space in the Saline Area School District that would replace the 643-square-foot area they presently occupy.
Started in a Saline resident's basement a half century ago, SASS is tucked away in a cramped downtown location, where it helps about 100 families at any given time. The organization also has about 572 square feet of storage space in the basement of the building where it rents space at 131 E. Michigan Ave.
Donald Dersnah, who has been the director of the organization for nearly two years, said he would love to find a rental space between 1,000-1,200 square feet for the organization, but with a tight budget, SASS can only afford about $3,800 for rent in a year.
He says the nonprofit has been looking for a new space, but so far has come up empty. SASS uses most of its $120,000 operating budget to help its clients.
"A lot of what we can do is limited by space," he said.
He said the organization has been helping even more people in these trying economic times.
Clients arrive throughout the week and can take home enough food to feed their family for a week. There's a food pantry, restocked by Food Gatherers and community donations, clothing, sundries, toys and other items that have been dropped off by community supporters.
Lisa Allmendinger | AnnArbor.com
Three employees and eight volunteers per week man the office space and help clients not only with food, but also with medical, electrical and housing bills. Clients must meet specific income requirements, which can be found at the SASS website.
The organization is always looking for donations such as diapers, dog and cat food, canned vegetables, chunky soups, winter clothing, comforters, quilts, extra homegrown vegetables and fruits.
"Diapers and wipes, pudding, crackers, anything that would be good for kids' snacks," are some of the current needs, said Glenna Rehter, a SASS clerk.
Plus, as the holidays approach, there are a number of programs that can help put a smile on the face of everyone who gets involved. People can "adopt-a-family" and fill a family's wishes for the holidays based on a list that's filled out by clients.
Last year, 163 children were part of the program, said Karen Mayne, a community social worker at the organization.
SASS organizes a number of special programs during the year. In addition to the adopt-a-family program, where more than 100 families are assisted, the organization works with the Saline Area Fire Department on a Toys for Tots holiday program and area churches offer giving trees.
There's also a holiday basket program that takes place at Thanksgiving, Christmas and Easter, and a back-to-school program, which assists children with school supplies and new school clothes, which helps more than 150 children.
Most of the clients helped by SASS also are receiving food assistance, Dersnah said.
With 42 years of human services experience as an Oakland County manager, Dersnah said he's enjoyed his time spent working with clients as the SASS director since January 2010.
Open Monday from 10 a.m.-5:30 p.m. and Tuesday through Thursday from 10 a.m.-3 p.m., donations are always welcome - whether in the form of money or actual items.
For more information about how you can help, look for information on the SASS website.
Lisa Allmendinger is a regional reporter for AnnArbor.com. She can be reached at lisaallmendinger@annarbor.com. For more Saline stories, visit our Saline page.