Posted on
Wed, Jan 11, 2012 : 2:30 p.m.
Saline school board elects new president, swears in new members
By Danielle Arndt
The Saline Area Schools Board of Education swore in two new trustees and selected a new president to serve for 2012 Tuesday.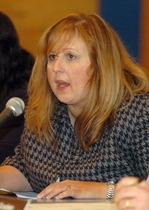 New president
Lisa Slawson
was thrilled to have been nominated and chosen to lead the board this year in particular. Slawson's daughter, as well as dozens of
Girl Scouts
she has mentored over the years, will graduate in 2012.
"So this is a real honor and very special to me. … Thank you," Slawson said to her fellow board members.
Slawson will succeed Chuck Lesch, who was nominated and approved for the position of vice president for 2012. She is currently serving her second four-year term on the board and will be up for re-election this coming November.
Voters chose David Holden and David Zimmer for the open trustee positions in November's school board election. The duo recited the oath of office during Tuesday's regular board meeting.
Holden and Zimmer defeated incumbent David Friese to earn the seats. Former vice president David Medley did not run for re-election.
Holden was nominated to serve as the board secretary. He will take over for Amy Cattell, who was the most recent secretary. Cattell also was nominated to continue serving in the position, however the vote was 4-3 in favor of Holden.
Staff reporter Danielle Arndt covers K-12 education for AnnArbor.com. Follow her on Twitter @DanielleArndt or email her at daniellearndt@annarbor.com.