Posted on
Tue, Jan 10, 2012 : 6:29 a.m.
Saline City Council selects police chief search firm
By Lisa Allmendinger
Terry McGinn, a senior consultant for Career Directions, on Monday night gave the City Council an overview of the steps he'll take as he assists Saline in its search for a new police chief.
Police Chief Paul Bunten will retire this month and Interim Chief Mike Lindman is transitioning into his temporary position. Lindman will take over the day-to-day operations of the department in the next two weeks and will continue the job during the search.
Finding a new chief is a process that McGinn expects will take about 3-4 months from start to finish, and includes meetings with the community, city staff and police personnel to develop a profile of what the city wants to see in its new chief.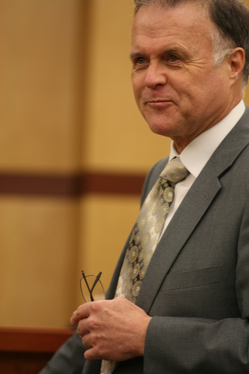 Lisa Allmendinger | AnnArbor.com
He said following the meetings, he would pick 6-8 "key competencies and this will become the yardstick."
Career Directions, a small "boutique firm" from Ann Arbor, was chosen because it has an extensive resume of law enforcement searches, said City Manager Todd Campbell.
"We have someone with a niche of recruiting law enforcement personnel," he said, and the firm provided City Council with an extensive proposal.
The position will be advertised on several Internet sites, such as the Michigan Municipal League and Michigan Chiefs of Police Websites, and he said he expects "three- to six-dozen viable candidates," to apply. He expects the posting to stay up for about 30 days.
McGinn said he'd be looking for someone from a comparable community to Saline, who is currently the "number one or number two," in charge while grading the applications. He'll then speak to the candidates on the phone, meeting with a city-appointed search committee after each step.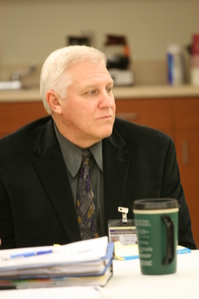 Lisa Allmendinger | Ann Arbor.com
"The process I use is tailored to each community," McGinn said of his 15 years in the business. "I don't come in with a cookie-cutter approach."
"Career Directions proposes to create a scaled and weighted competency profile or templates for the police chief position based on the job posting, job description, as well as input from the city manager, and any other individuals or groups designated by the search committee," according to the proposal.
The applications will be narrowed down to about 6-8 candidates for "oral boards" by a city appointed search committee that consists of three City Council members, the city manager, several law enforcement and city staff members.
It's expected that about two or three candidates then will be interviewed by the entire City Council.
"It's not easy to find a good police chief for a city," McGinn said, adding that the key is to "hire a police chief that's a good fit."
Saline will pay the consultant $6,000 for the search and once a final candidate has been chosen, it will cost about another $1,000 for a background check.
The company was unanimously chosen by the City Council.
Lisa Allmendinger is a regional reporter for AnnArbor.com. She can be reached at lisaallmendinger@annarbor.com. For more Saline stories, visit our Saline page.