Posted on
Sun, Aug 21, 2011 : 1:30 p.m.
Saline Fire Department will have special Sept. 11 display as 10th anniversary approaches
By Lisa Allmendinger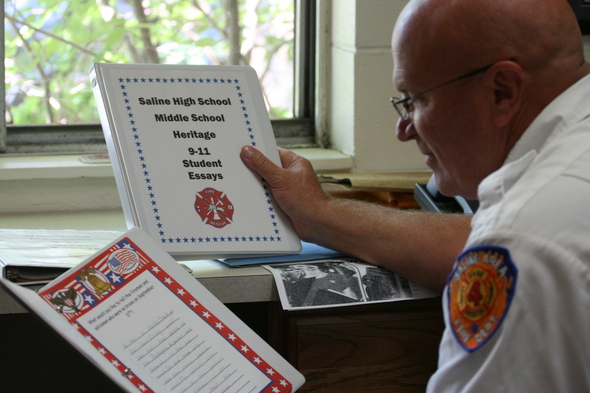 Lisa Allmendinger | AnnArbor.com
It's been almost a decade since 343 firemen perished during the terrorist attacks of Sept. 11, 2001, that targeted three locations in America and destroyed the World Trade Center in New York City.
Since that time, the Lower Manhattan neighborhood around the World Trade Towers, where one of the attacks occurred, has become a tourist mecca. A new memorial at "Ground Zero" will be unveiled this year, and a museum is planned for the following year, according to The Associated Press.
In Saline, in the year following the attacks, one of the largest memorials in the area took place outside the Saline fire station where an estimated 800 people gathered.
"We felt we needed to do something," said Fire Chief Craig Hoeft.
In fact, in front of the fire department is a special granite memorial that reads: "In memory of our fallen brothers of the FDNYC, Sept. 11, 2001," which was donated by Robison Funeral Home, Hoeft said.
The original plan was to have a clergyman say a prayer and put out a memorial wreath at the firehouse. But that initial small commemoration grew into a full-fledged community program at which the high school marching band played, the choir sang, and several elected officials spoke, Hoeft said.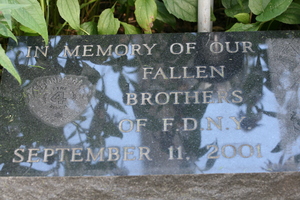 Lisa Allmendinger | AnnArbor.com
A large bell was tolled in a tradition that signals the last call -- a tribute to a firefighter who has died in the line of duty.
In addition, city school children wrote essays that answered the question "What would you say to those who gave their lives on Sept. 11, 2001?"
Several hundred essays were received, Hoeft said, and the winning ones were read during the ceremony.
Among those received were this one from Brandon Smith, who wrote: "Our nation holds a great debt to you. Our strength was tested, and because of the morals you held in your heart you did not flee, but stayed to help. You love for your country and your faithfulness to those you loved shined true, and you saved the lives of many. Our thanks."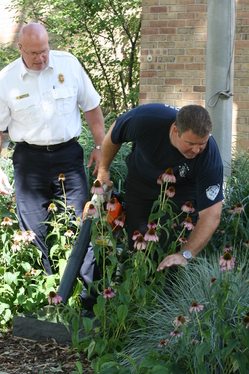 Lisa Allmendinger | AnnArbor.com
Emily Hogikyan
, who later became the student representative to the Saline Board of Education, wrote, "I would say thank you. Those who became heroes that will go on in our minds and our hearts forever, thank you. Those who worked hours on end trying to save their fellow citizens and wonderful Americans, thank you.
"For those thought and cared more about their country and its future than themselves and if they would live through it or not, thank you. To every person who showed patriotism and not only then but all of the time, thank you. Thank you to all American for helping us through these terrible and tragic times and coming out more patriotic and united than ever. God Bless America."
This year the downtown firehouse will have a "memorial for the memorial," which took place on the first anniversary of the terrorist attack.
Hoeft said that Saline Picture Frame is putting together a collage of about 20 photos and essays from the 2002 memorial and he hopes that adults and youth will stop by the fire station at the corner of Old US-12 and Harris Street on Sept. 11 and take a moment to look at the special display.
"Maybe the kids will come back and see what they wrote or what their friends wrote 10 years ago," he said.