Posted on
Sun, Dec 11, 2011 : 10:28 a.m.
Consortium's health sciences program at Saline High School offers students a jump on a career in health care
By Lisa Allmendinger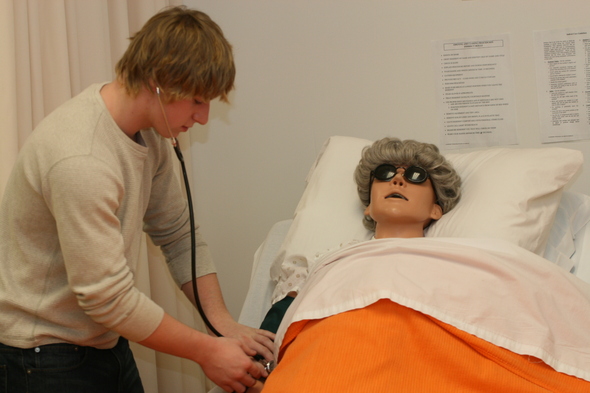 Lisa Allmendinger | AnnArbor.com
Tyler Sheets
isn't just the captain of the
Saline
High School lacrosse team, he's already decided that his future will involve athletics - as an orthopedic surgeon.
Sheets, a senior, said he's always been interested in the medical field and through the South and West Washtenaw Consortium, he's enrolled in the health sciences program, which has afforded him the opportunity to see what it's like to work in his chosen field.
Sheets "job shadowed" an orthopedic surgeon at University of Michigan Hospital as part of the program that's offered at both Saline and Chelsea high schools.
"I enjoyed this particular field and found the hospital an upbeat place to be," he said.
Health Science students travel to hospitals, including the St. Joseph emergency room and the University of Michigan Trauma and Burn Unit, to observe some of the many different careers available to them in health sciences.
"You learn practical and social skills and how to deal with people," Sheets said.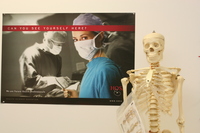 Lisa Allmendinger | AnnArbor.com
"It's a wonderful program and the students work very hard," said Margaret Haines-Huhr, the new health sciences instructor at Saline High School, after previously teaching at Washtenaw Community College.
The six-credit program is designed for juniors and seniors and includes areas of study such as anatomy and physiology, disease process, medical ethics, communications, medical terminology, career exploration and trends in health care as well as a look into college programs.
Students develop skills in CPR, vital signs, safety, and patient care skills that apply to multiple health fields, such as medicine, physical therapy, X-ray, nursing and lab technology.
They also have an opportunity to experience hospitals, long-term health facilities, professional offices and clinics across the county.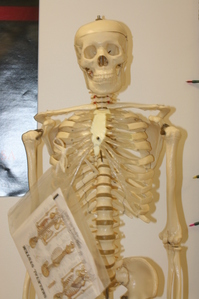 Lisa Allmendinger | AnnArbor.com
Haines-Huhr said before the 19 students were accepted into the program, they were interviewed and passed a screening.
While in the program, they learn everything from how to take vital signs to blood pressure to assessing a pulse.
"These students are delightful," Haines-Huhr said, "Just outstanding." "It's a unique thing to get out and do things and get involved beforehand," Sheets said of his experience in the program.
Students who complete the requirements are eligible to take the State of Michigan tests to become certified nursing assistants.
More than 700 students from Saline, Chelsea, Manchester, Lincoln, Milan, and Dexter are involved in the South and West Washtenaw Consortium Career and Technical Education classes in fields such as cosmetology, welding, culinary arts, photography, education and computers, botany and manufacturing, said Jody Gielinski, director of the program.
Lisa Allmendinger is a regional reporter for AnnArbor.com. She can be reached at lisaallmendinger@annarbor.com. For more Saline stories, visit our Saline page.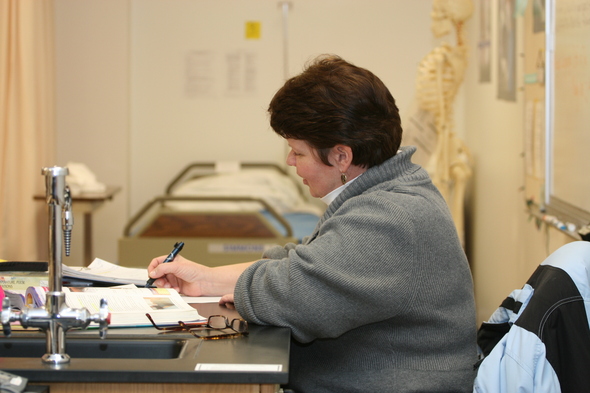 Lisa Allmendinger | AnnArbor.com