Posted on
Fri, Jan 4, 2013 : 6:26 p.m.
Saline man and friend were fishing in shanty when ice cracked, sending them into near-freezing water
By Kyle Feldscher
Friends Michael Shofstall and Gerald Smith were ice fishing Thursday in their shanty on Timber Lake in Lenawee County's Cambridge Township when the ice started to crack.
A few minutes after the cracking started, the men fell into the just-above-freezing water but were able to hold on to the edge of the ice, according to a Lenawee County Sheriff's Office official.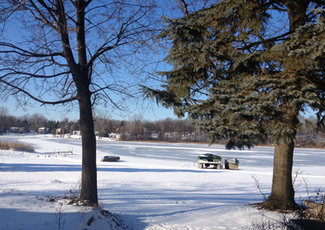 MLive.com photo
At some point, Shofstall — a 62-year-old Saline resident — slipped and dropped beneath the surface of the water, Lt.
Jeff Ewald
said. A dive crew pulled Shofstall from the water at 1:20 p.m., about an hour and a half after emergency crews were sent to the scene,
MLive.com reported
.
Smith, a 62-year-old man from Grass Lake, held on for half an hour before he could be rescued. MLive spoke Friday with one of the men who pulled Smith from the water. It was not clear how long the men had been fishing before the ice started cracking.
"The best information we have is that they went through the ice and he (Shofstall) slipped," Ewald said. "The second guy (Smith) held on for 30 minutes or so."
Ewald said Shofstall was found in 18 feet of water, the temperature of which was just above freezing. The air temperature at the time of the accident was 26 degrees F.
Shofstall was pronounced dead at Allegiance Health in Jackson, where efforts to revive him were unsuccessful. Smith continues to recover at University of Toledo Medical Center in Ohio. Ewald said he was improving Friday afternoon. An attempt to reach Shofstall's family was not successful Friday.
The two men were the only ones out on the ice at the time of the accident, Ewald said. However, there are holes drilled in the ice closer to shore, showing where other ice fishermen have been out on Timber Lake so far this year. Ewald said the area where Shofstall and Smith were fishing was about 80 yards off shore and was easily the most distant hole they'd found in the ice.
The ice was about two inches thick where the accident took place. Ewald told MLive that four inches is the generally recognized threshold for ice fishing. Anything less than that is considered dangerous.
The Michigan Department of Natural Resources released a statement Friday urging ice fishermen to take precautions when venturing out onto the ice. Fisherman are urged to beware of any ice covered by snow, carry a spud to check the quality of the ice and wear a personal flotation device.
Kyle Feldscher covers cops and courts for AnnArbor.com. He can be reached at kylefeldscher@annarbor.com or you can follow him on Twitter.