Posted on
Thu, Dec 1, 2011 : 10:20 a.m.
Saline Moonlight Madness Craft Show on Friday kicks off busy weekend in the city
By Lisa Allmendinger
Brewed Awakenings Cafe, a new Saline business, will host a holiday tea as part of the annual Moonlight Madness Craft Show on Friday.
The 6 p.m. seating, which includes the entrance fee to the holiday event, is $15. Reservations are required and seating is limited for the event that will be held at the Saline Middle School, 7190 Maple Road.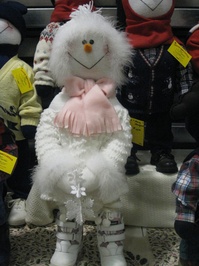 Courtesy photo
The craft show, which began in 2004, benefits clubs and organizations in the Saline District Schools. The doors open at 5 p.m. and it runs until 11 p.m.
Peggy Ernst of Saline said in a news release that she likes to leave work and head to the show for an evening of shopping. "I find the best gifts, plus it puts me in the mood for the holiday spirit especially when you share it with friends." Crafts that are expected include greens, decorative painting, stoneware, rugs, birdhouses, holiday decorating ideas, ceramics, calligraphy, clothing and jewelry.
Admission to the show is $2. More than 135 craft booths are expected, according to information from Cheryl Hoeft and Saline Shows, which puts on three craft shows each year.
There will be concessions, children's activities, a bake sale, a raffle and quilting workshops. The show is a place to find unusual holiday gifts in all price ranges, organizers say.
The show, according to the organizers, is rated as one of Michigan's top 10 craft shows of the year.
Parking is free, and organizers ask that visitors not bring stollers.
For a complete list of vendors and activities, go to here.
The show kicks off a busy weekend in Saline that includes the mock rock talent show the evening of the craft show, then the annual holiday parade the next evening in downtown Saline on Dec. 3.
For more Saline stories, visit our Saline page.