Posted on
Sun, Nov 27, 2011 : 11:26 a.m.
Saline Polar Express arrives downtown on Saturday
By Lisa Allmendinger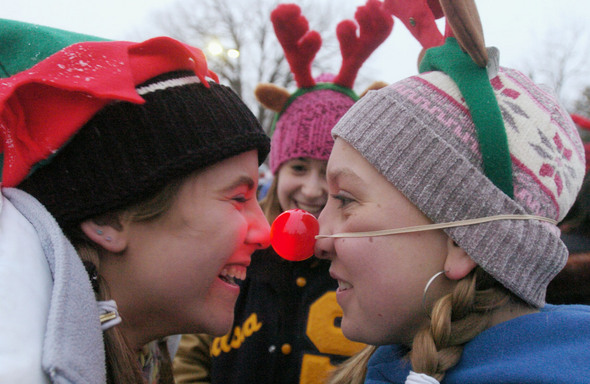 File photo
Bands, twirlers, unicyclists, animals and professional-level entertainment will be part of the
Saline
Polar Express, which will march down Michigan Avenue on Saturday.
In its 36th annual edition, the parade is "certainly one of the highlights of the year," said Larry Osterling, executive director of the Saline Area Chamber of Commerce, which organizes the event each year.
About 25,000 people are expected to visit downtown Saline during during the parade and the following weekend for Santa's Village, he said.
But a majority of the crowds will line up along Michigan Avenue from Davenport to Lewis to view the winter event, which ends with Santa's arrival.
There will be about 65 units, said Mary Alice Smith, project coordinator, who added that the grand marshal is Jack Ceo, who this year retired as Saline's deputy chief of police. Osterling said the holiday parade has become a big-budget operation, costing about $14,500, including city-donated services.
"We're very fortunate to have the ongoing support of the City of Saline and a lot of support from sponsors and volunteers who make it work."
Melanie Maxwell | AnnArbor.com
The parade begins at 5:30 p.m., with Michigan Avenue closing to traffic at 5 p.m.
"Every year, so many people come out and help," Osterling said, adding there are usually about 50 volunteers.
Osterling recommends that people arrive early, and there is a free shuttle coach from 4:30-8:30 p.m. between Busch's Shopping Center and the shuttle stop in the parking lot behind Mac's Acadian Seafood Shack.
Following the parade, Santa will be available at "Santa's Village" in the Stone Arch Arts and Events Building at 117 S. Ann Arbor St., Smith said, and visitors are encouraged to bring a camera for pictures.
"Santa walks down Ann Arbor Street to the Stone Arch where families and children are waiting," Smith said, adding that Mrs. Claus, and perhaps, Frosty the Snowman, will greet them.
In addition, children are given a "Santa's Sack with goodies for the kids," she said.
Throughout the weekend at the Stone Arch, the Saline Area Players will perform "Rudolph the Red-Nosed Reindeer." She said last year's performances sold out and early reservations are recommended by calling 734-429-1480 for further details.
The "Treasure Trail to Santa" takes place the following Saturday, Dec.10, at Busch's Shopping Center from 10 a.m. - 1:30 p.m. where there's a photo tent, petting animals and horse-drawn carriage rides.
Smith said that children are given a treasure trail map that they follow, which will lead them to Santa.
Lisa Allmendinger is a regional reporter for AnnArbor.com. She can be reached at lisaallmendinger@annarbor.com. For more Saline stories, visit our Saline page.