Posted on
Tue, Nov 22, 2011 : 11 a.m.
Saline Police Chief Paul Bunten to retire Jan. 16
By Lisa Allmendinger
Longtime Saline Police Chief Paul Bunten, who earlier said he planned to retire in July, has moved up the date. Bunten now plans to retire on Jan. 16, but Jan. 15 will be his last day on the job.
The Saline City Council Monday night accepted his retirement letter.
Bunten called his nearly18 years in Saline fun and sometimes challenging and said, after 47 years in police work, he's ready to see "what's out there.".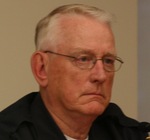 Originally, Bunten planned to retire planned his retirement for July to allow plenty of time to train a new second in command before the city hires a new chief. But, two weeks ago, a majority of City Council members made it clear that they thought the
new chief should choose the second in command
of the department.
On Nov. 14, Bunten sent a letter to Saline City Manager Todd Campbell announcing his accelerated plans.
"I had originally set my retirement date for July 2012 for the sole reason to have time to train the new second in charge and have that person ready to assist the new chief of police upon my retirement," he wrote in the letter. "It was my thought that a lengthy transition would allow for a thoughtful and thorough search for a new chief and also provide the necessary time to acclimate the new second in charge on the budget process, and the day-to-day administration of the department. Prolonging my retirement date now no longer appears to be necessary or desirable."
Bunten began his career in law enforcement in January 1965 and served with both Ann Arbor and Saline police departments.
Council member Brian Marl, in thanking the chief for his years of service, said the Saline Police Department is "recognized in the county and Southeast Michigan as one of the best, most professional departments,".
Saline Mayor Gretchen Driskell said in a telephone interview that the chief will be missed. "He's done a great job for the city and the police department is stronger because of him. Plus, we know he's very well loved in the community."
Campbell also praised Bunten, calling him a friend and confidant. "I appreciate your friendship and efforts."
Bunten closed his letter saying, "It has been an honor to serve the people of the City of Saline as their police chief and I will cherish the memory of these almost 18 years for the rest of my life." It's expected that the Saline City Council will begin looking at its options, perhaps naming an interim chief, in the next couple weeks.
Lisa Allmendinger is a regional reporter for AnnArbor.com. She can be reached at lisaallmendinger@annarbor.com. For more Saline stories, visit our Saline page.