Posted on
Sun, Mar 11, 2012 : 1:43 p.m.
Man charged with arson for fire at Saline apartment
By Kyle Feldscher
A 22-year-old Saline man has been charged with arson after lighting his apartment's stove on fire before notifying police and leaving the building.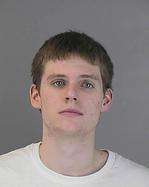 Courtesy of Saline Police Department
Paul Morphew, of Saline, has been charged with arson of a dwelling, according to jail records. He was arraigned Friday afternoon at the Washtenaw County Jail and given a $25,000 personal recognizance bond.
Saline police dispatchers received a call from the Ann Arbor Police Department at 6:17 p.m. Wednesday notifying them that a young man had called Ann Arbor police to report a fire at his apartment.
The man, reported to be Morphew, told police there would be a fire at the apartment's address. When asked how he knew that, Morphew told Ann Arbor dispatchers, "Because I just set it" and hung up, according to the report.
Saline police and Saline firefighters responded to the apartment in the 200 block of Clark Street and found thick smoke coming from the apartment identified by Ann Arbor police. All four of the burners on the apartment's stove were on and papers were burning on top of them, according to the report.
The fire was reaching up the wall behind the gas stove. Saline firefighters were able to extinguish the fire quickly before searching the apartment and determining no one was home.
Saline police officers evacuated residents from four other apartments in the building. No one was injured.
While investigating after the fire was extinguished, police found mail addressed to Morphew in the apartment and the cell phone belonging to Morphew, according to the report.
According to the police report, Morphew underwent a psychological evaluation after his arrest.
Kyle Feldscher covers cops and courts for AnnArbor.com. He can be reached at kylefeldscher@annarbor.com or you can follow him on Twitter.