Posted on
Fri, Jul 2, 2010 : 1:28 p.m.
Saline schools accepts $425,000 offer to sell Union School to Quantum Signal
By Tara Cavanaugh
The Saline Board of Education voted Thursday night to accept a $425,000 offer for the purchase of Union School by an entity of Ann Arbor-based Quantum Signal.
If the sale is finalized, the 35-employee business could move into Union in the fall, said Chief Operating Officer Mitch Rohde.
The company and the district have 90 days to complete the sale.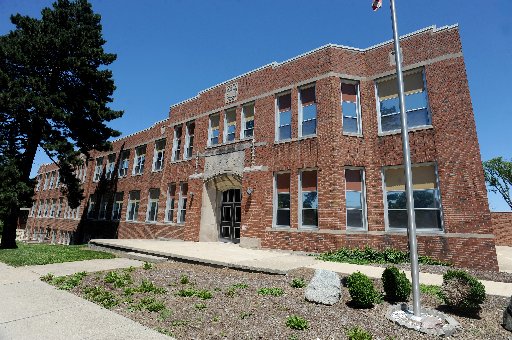 Angela Cesere | AnnArbor.com
The district's administrative offices are in the process of moving from Union to Liberty Middle School. The move should be complete by October.
Tom Wall, assistant superintendent for administrative services, said moving into Liberty will save the district money.
Wall said the district spends about $150,000 to $160,000 a year on operational costs at Union. If the building is vacated and unsold, the district would continue to pay $80,000 to $100,000 in operational costs. Wall said the money the district doesn't spend on maintaining Union can be put back into the classroom.
The purchase of Union School will include the adjacent parking lot. Superintendent Scot Graden said Henne Field would remain under the ownership of Saline schools.
Quantum Signal, now based at 3741 Plaza Dr., is a research and development company that uses mathematical modeling and image processing to design systems and products for its clients, Rohde said. Clients have included the Department of Defense, the Department of Energy, Amway, Sony, GM and Ford.
In its 10 years of operation, the company has created video games, programs for robots used by soldiers, and a face-scanning software that finds age spots and wrinkles.
Rohde said Saline would be the ideal place for his company to expand, citing its downtown location and proximity to businesses.Union School was built in 1868, according to the Saline Area Historical Society's website. It was torn down and rebuilt in 1930.
Art Trapp, Saline's downtown development director, said it is currently the oldest building owned by the school system. It has housed an elementary school, high school, and administrative offices.
Tara Cavanaugh is a freelance writer for AnnArbor.com. To reach the news desk, call 734-623-2530 or email news@annarbor.com.