Posted on
Sun, Oct 30, 2011 : 10:34 a.m.
Saline Senior Center crafters hard at work for annual bazaar
By Lisa Allmendinger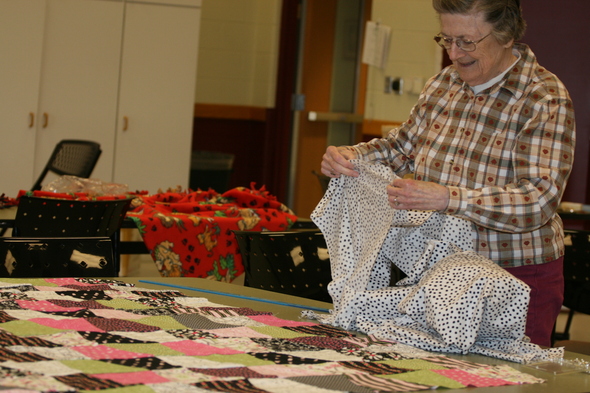 Lisa Allmendinger | AnnArbor.com
On any given Tuesday morning, the
Saline Senior Center
is alive with about a dozen crafters working on projects from donated craft supplies.
At this time of year, the crafters are particularly busy as they put the finishing touches on fundraising items that will be sold at the senior center's annual holiday bazaar and bake sale on Nov. 19.
"It's our biggest fundraiser of the year," said Pam Molascon, the program specialist and one of the regular crafters.
She said each year the senior center sponsors two $500 scholarships for Saline High School seniors, and proceeds from the craft sale fund the scholarships.
"I like being part of the group even though I work here," she said.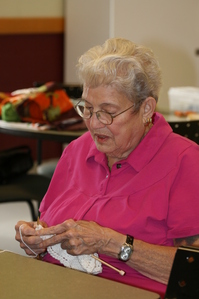 Lisa Allmendinger | AnnArbor.com
And for those hoping for special finds to make their own craft projects, the ladies have put together bags of supplies that they call "Granny's Attic" bags for $5 each, which Molascon said are very popular.
Throughout the year, the senior center also receives lots of jewelry that's donated and sold at the annual sale. Joanne Lassell has taken on the task of displaying and pricing them. She also handles the gently used purse sale, put together with donated handbags.
"I help Pam," Lassell said. "I'm an organizer, so when we started getting these things in, I got to work on them."
Already, about $600 in jewelry and $140 in purses have been purchased, Molascon said.
"The annual craft bazaar is one of the signature events of the year at the senior center," said Councilman Brian Marl, who is the council representative to the senior center. "It generates funds to the center and is a great way for the members to showcase their creative and artistic talents."
Plus, he said, it brings people into the senior center who wouldn't normally go there and provides great exposure for the center and its programs. Also popular each year is a handmade quilt designed, worked and donated by Barbara Johnston, which is raffled off at a dollar per ticket.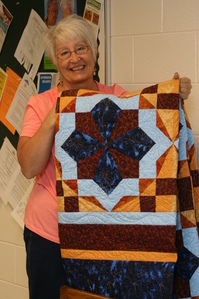 Lisa Allmendinger | AnnArbor.com
About 25 vendors are expected at the bazaar, selling everything from jewelry to quilts, hand-woven rugs to origami cards and American girl dresses. Also expected are photography, lace ornaments, children's books, wood crafts and decoupage plates.
Evelyn Friend, a member of the crafters, is one of them. The Lodi Township resident sells wall hangings. "I quilt, knit and crochet," she said, adding "It's something that I've always done."
For Virginia Drexler of Saline, the first thing she did 20 years ago when she retired was to join the Saline Senior Center and become a part of the craft club.
The annual craft show and bake sale takes place Nov. 19 from 9 a.m.-2 p.m. at the senior center, 7190 North Maple Road in the rear of the school.
Lisa Allmendinger is a regional reporter for AnnArbor.com. She can be reached at lisaallmendinger@annarbor.com. For more Saline stories, visit our Saline page.