Saline students place 2nd at national automotive skills competition
Posted on Thu, Jun 14, 2012 : 5:57 a.m.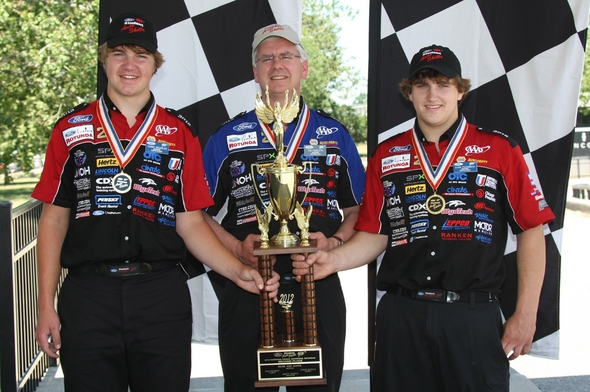 Courtesy of AAA Michigan

Two Saline students proved their auto expertise Tuesday by quickly and accurately fixing a 2012 Ford Fiesta to place second in a national automotive skills competition at Ford Motor Co.'s headquarters outside Detroit.

Their runner-up status will grant them access to nearly $69,000 in scholarships.

The students, Evan Fischbach and Tommy Michaluk, beat out teams from about 60 Michigan schools in April to earn a spot at the national Ford/AAA Student Auto Skills Competition in Dearborn.

One hundred students in total — a team of two from each state — competed in the hands-on contest, which involved both a written exam and a timed event. Students were required to diagnose and repair deliberately-installed glitches in their assigned Fiestas.

The students were allotted 90 minutes to fix the vehicles. And while speed is important, the contestants were issued "time demerits" for technical and quality-of-workmanship errors. Penalties could be given for missing a light bulb or a fuse, for leaving a tool under the hood or for failing to reconnect the wiring harness, said Tim Timoszyk, automotive teacher for the South & West Washtenaw Consortium, a career-technical center for Chelsea, Dexter, Manchester, Milan and Saline students.

He said 18 seconds also were added to each team's final time for every question the students got wrong on the written exam.

Timoszyk said Saline and five of the other 50 high schools were the only teams to not receive a single demerit for technical or workmanship errors. Thus, the teams' test results determined the top six places.

Fischbach and Michaluk had the highest scores on the written exam, but Timoszyk said the team from Kansas was faster in fixing their vehicle, earning them first place.

This was Timoszyk's seventh appearance at the national auto skills finals and the third in a row. Second is the best his teams have placed so far.

He said he treats the competition much like a sporting event and essentially has students train and "try out" to make the team. The students study from September to February. Of the initial 25 juniors and seniors from his automotive technology classes who showed interest in the contest, he narrowed it down to about 12 who took a practice exam to determine the final two. Fischbach and Michaluk had the highest scores of the group.

"It always has bothered me that just because a student doesn't take 10 AP (Advanced Placement) classes, that student is somehow deemed less intelligent than another child," he said. "I can guarantee you, these kids study harder for this exam and these contests than some of the AP students do."

Timoszyk said the Ford/AAA Student Auto Skills Competition is beneficial to high schoolers for a variety of reasons — the first being the scholarship money. Students also win a variety of tools.

The exams virtually are identical to the type of test required for obtaining an automotive technician's license, Timoszyk said, making for excellent practice.

He said Fischbach will attend Washtenaw Community College in the fall to do precisely that, become an auto technician, while Michaluk will attend Kettering University to pursue engineering.

Staff reporter Danielle Arndt covers K-12 education for AnnArbor.com. Follow her on Twitter @DanielleArndt or email her at daniellearndt@annarbor.com.