Posted on
Sun, Nov 21, 2010 : 3 p.m.
Saline's longest-running mayor loves her job
By Tara Cavanaugh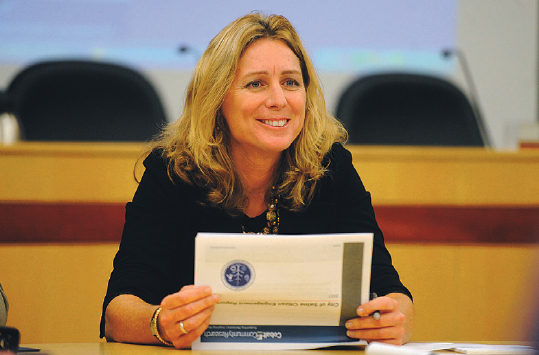 Angela Cesere | AnnArbor.com
When
Gretchen Driskell
ran for Saline City Council in 1992, she had no intention of staying for very long.
"When I first ran for council, I was like OK, one term. Seriously. I didn't plan on being mayor. I didn't have any agenda," she said.
Driskell, who faced no opposition in recent city elections and is now the longest-serving mayor in the history of Saline, spent most of her life in big cities. She grew up just a train ride away from New York City in Port Washington, N.Y., and she and her family visited the city often. She earned her M.B.A. at George Washington University and worked as accountant in Washington, D.C., In 1988, she moved to Saline because her then-husband got a job in Southeast Michigan.
At the time, she thought living in the small city of Saline would allow her to spend more time with her 9-month-old child. But by 1992, she was looking for a way to serve the community she had grown to love. "I think I was raised to be involved and give back," she said, "and that's what I continue to do." After she was elected to council, she found there was a lot to do, and that she was having fun. At the encouragement of citizens and council members, she ran for mayor in 1998 and became the city's first female mayor.
As mayor, Driskell has helped start the popular Saline Farmers Market, establish a historic district downtown and encourage commercial and industrial growth.
Driskell said the downtown area was quiet when she first moved to Saline, but "I think things are going pretty well right now," noting the new restaurant Mangiamo that will open soon, and businesses in Murphy's Crossing.
Driskell is quick to point out that development downtown could be better. She's frustrated, like many other citizens, about the undeveloped property on East Michigan Avenue that was at one time supposed to be the mixed-use development Village Marketplace and Lofts.
"So we are trying to do what we legally can do," she said. "It takes time." The city filed suit against developers on July 30 this year.
"It'll be interesting to see in the next six months what happens to that property," she said. Washtenaw County has put the property owners on notice because they have not paid taxes to the county.
Driskell said Saline is in a catch-22. "I've tried to get multiple businesses to town, and for most of them, we don't have the demographics," she said. But to attract more residents, the city would need more businesses.
"We're in sort of a weird place in that Ann Arbor is a benefit to the community, but it makes it hard to have vibrant commercial businesses like restaurants and entertainment because there's already such great offerings in Ann Arbor," she said.
Driskell's colleagues have noticed her dedication to Saline. "She's involved at all levels: the local level, the state level, the national level, all for trying to make Saline the best place it can be," said Todd Campbell, city manager.
Driskell is on the board of trustees for the National League of Cities, a national association of mayors; she's the vice chairwoman of the Southeast Michigan Council of Governments; and she's on the executive committee of Ann Arbor SPARK, a nonprofit organization that encourages business development. Driskell also works as a real estate agent at Swisher Commercial in Ann Arbor. She has three children, ages 16, 20, and 23.
"You need to make sure you have your running shoes on, just to keep up with her," Campbell said.
Driskell won an award this year for her role in transportation development and research from the Michigan Association of Mayors. Gov. Jennifer Granholm appointed her in 2008 to a task force to research ways to improve all forms of transportation in Michigan, from roads to sidewalks to public transit services.
"I didn't run for office because I wanted to make trains go," she said, but as she discovered Michigan's lack of public transportation, she found herself advocating for improvements.
Driskell plans to continue that advocacy. She also plans to keep encouraging business development in Saline.
Most towns that are the size of Saline get 80 to 90 percent of their revenues from property taxes. Driskell said city leaders are aiming for a 50/50 split between property taxes and commercial and industrial taxes. Right now the balance is about 55/45, Driskell said.
"A lot of places don't have as much business development as we do," she said.
Driskell thinks it's important for a city to plan carefully for the future. The city has a plan to create a street and more downtown shops in place of the service drive and an old warehouse near Comerica Bank on East Michigan Avenue. Driskell said that will probably take another 20 years to complete.
Council member Brian Marl appreciates Driskell's leadership even if they have their differences.
"It's true I haven't always agreed with her," said Marl, who was recently re-elected. "but she has a real vision for where she hopes to lead the city." Driskell sees a lot of potential for downtown Saline: "It's what makes Saline unique," she said, noting the architecture and independently-owned businesses.
Does she still plan on being mayor 20 years from now? No, she laughed. But she has no immediate plans to leave the job. "I just really like it," she said.
"It's a really exciting job," she said. "You are always meeting people who are really passionate about the community and have these great ideas. I think it's the best job in the world."