Posted on
Wed, Sep 14, 2011 : 9:49 a.m.
Scot Graden, Saline superintendent of schools, gets contract extension through 2016
By Lisa Allmendinger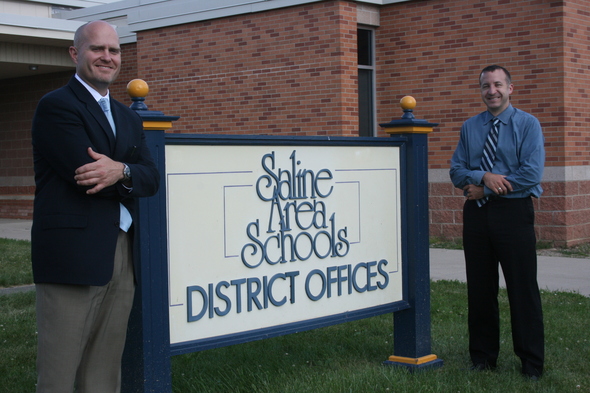 Lisa Allmendinger | AnnArbor.com
Saline
Superintendent of Schools
Scot Graden
was unanimously given a multi-year contract extension through June 30, 2016, Tuesday night by the Board of Education with a base salary of $125,000 through June, 30, 2012.
Since 2007-2008, Graden has taken a 7.5 percent reduction in salary, said Chuck Lesch, Saline Board of Education president, who added that he has lead the district by sharing "the necessary sacrifices."
At an August retreat, Graden scored a 3.2 on a 4.0 scale on his evaluation by the board, which represents his ability to meet the board's expectations to lead the district.
"Mr. Graden has done an excellent job of moving Saline Area Schools forward during a very tumultuous time," Lesch said in a press release. "As a board and a community, we are excited about the future under his leadership."
He was lauded for "the strong performance of this district, (which) is a testament to Mr. Graden's dedication to higher achievement for all students at every level and his willingness to address difficult financial issues," Lesch said.
Board Member Lisa Slawson agreed. "His evaluation was excellent," and with a contract extension through 2016, "He's here for a good long time."
His contract stipulates that he may receive an increase in his annual base salary beginning July 1, 2012, through June 30, 2016, at the discretion of the school board.
Among the highlights of his contract are:
*$125,000 in base salary for a period that began July 1, 2011 and ends June 30, 2012.
*An administrative stipend of $6,500 annually through 2016.
*Reimbursed out-of-pocket expenses for school functions up to $1,900 annually.
*15 vacation days.
*21 holiday days for year-round employment.
*15 sick days per year. Sick days can accumulate up to a maximum of 130 days.
*He'll pay 10 percent of his insurance premium costs in 2011-2012, in subsequent years, he'll pay 20 percent, or the state "hard cap" as determined by the board.
In addition to approving Graden's contract, the board also unanimously approved a three-year contract for Assistant Superintendent of Instructional Services Steve Laatsch with a base salary of $103,017 for 2011-2012.
His salary for additional years will be determined annually by the school board. He, too, received a $6,500 annual stipend, and his health insurance will mirror that of other administrators in the district.
Lisa Allmendinger is a regional reporter for AnnArbor.com. She can be reached at lisaallmendinger@annarbor.com. For more Saline stories, visit our Saline page.