Posted on
Wed, Dec 22, 2010 : 4:18 p.m.
100-unit senior assisted living community proposed in Saline
By Lisa Allmendinger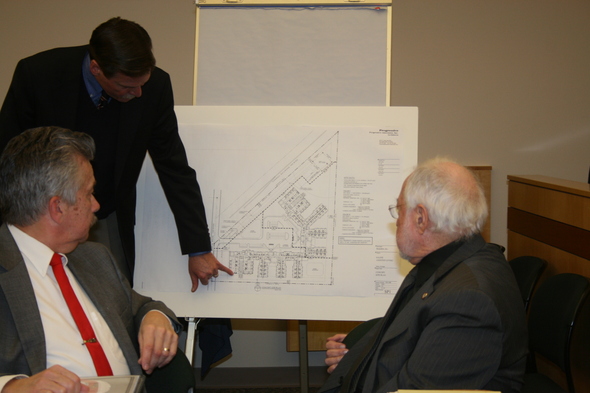 Lisa Allmendinger | AnnArbor.com
A developer from Grand Haven has proposed a $12.5 million, 100-unit senior assisted living community for the city-owned former service center property at 7605 N. Maple Road in Saline.
During a work session with the City Council on Monday night, representatives from the for-profit company Senior Care Properties LLC said the project will be built in two phases and will include both general assisted living and memory care facilities.

The City Council postponed a vote on the purchase agreement until its meeting on Jan. 3 to work out concerns raised by several council members. Those concerns include the 60-month time period allowed to close on the land purchase for the second phase of the project.
The plan calls for a two-phase build-out and land purchase. The first phase involves the purchase of 3.68 acres at a cost of about $331,000 and an option on the remaining 3.01 acres at a price of about $210,700. The company still needs to do several environmental assessments to determine whether the development will fit into the site. The total price for the land is $541,900.
Tom Higgins, development coordinator for the company, said studio and one-bedroom units will range from 224 to 576 square feet, and monthly rates start at $3,000 plus cost of care.
About 25 percent of the units are designed for those with Alzheimer's disease or other forms of memory impairment, according to information provided to the City Council.
Higgins said the first phase of company's most recent senior housing development, Grand Pines in Grand Haven, Mich., was 90 percent full in about 11 months.
"We'd look at going into the second phase relatively quickly if it goes as the Grand Haven project did," he said. "It's our intention, our desire, and it's in our best interests to be in the ground next summer."
Senior Care Properties LLC is part of a family-owned company founded in 1946 called Reendeers Inc., which has an extensive history of construction projects.
"We are a fully integrated company," Higgins said. "We purchase, build and maintain (the properties)."
Reenders Inc. has built and owns 13 assisted living developments in Michigan. It also has a management company called Heritage Property Management Inc. that manages more than 1,300 rental units, including apartments, single-family homes, professional office space, a mobile home park and more than 500 units of assisted and congregate living, according to information provided to the city.
In Livingston County, Haven Manor of Brighton is under development, as well as six other rental housing projects.
The company's memory care areas are built with color-coded neighborhoods to help relieve confusion for residents. The development is well-secured, Higgins said.
Services will include a full commercial kitchen with three meals a day and snacks, housekeeping and laundry services. An outdoor area that's secure for memory care patients with walking and seating areas is also planned.
"I think you folks would be a good addition to the City of Saline," said Council Member David Rhoads. "It's something that's needed."
Shirley Woodruff, one of the company's owners, said they need a land survey and wetland assessment.
"We will push it through as quickly as possible," she said. "We want to get it started in the dry summer season, but there are a lot of steps involved."
About 50-75 new employees are expected to be hired when the project is complete, Woodruff said. There will be between 75-100 total employees, and the facility is staffed 24 hours a day, she said.
The city is retaining portions of the property for access and along the railroad track for possible future light rail in the area.
Lisa Allmendinger | AnnArbor.com
Lisa Allmendinger is a reporter with AnnArbor.com. She can be reached at lisaallmendinger@annarbor.com. For more Saline stories, visit our Saline page.