Posted on
Wed, May 19, 2010 : 11:46 a.m.
Saline, steeped in small-town charm, is poised for growth
By Janet Miller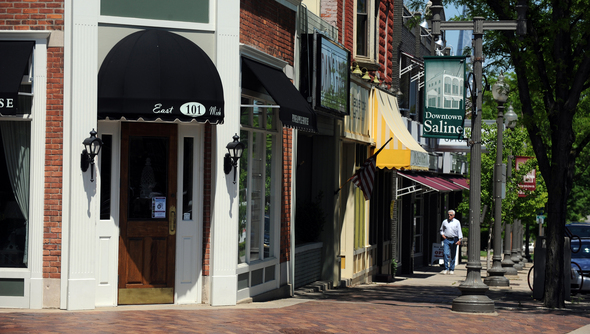 Lon Horwedel | AnnArbor.com
With its well-kept historic homes, wrap-around porches, carefully tended gardens and a downtown dotted with quaint shops, Saline looks like the setting for a Norman Rockwell painting.
But it's not all small-town charm. The housing boom of several years ago ringed Saline with new neighborhoods and golf courses. New schools followed. Saline and the five townships (Bridgewater, Lodi, Pittsfield, Saline and York) that surround it stretched and grew, making it a tale of two cities - an inner core of early 20th Century Victorian and bungalow homes surrounded by developments bulging with modern homes with manicured lawns, strip malls, fast food restaurants and a Walmart Supercenter that opened just east of downtown in Pittsfield Township last fall.
While times have quieted considerably since the housing rush, Larry Osterling, executive director of the Saline Area Chamber of Commerce said he expects the Saline area to continue to grow. It's a city known for its good living, he said.
The nation agrees: Saline (visitors have been heard unwittingly pronouncing the city like the salt solution rather than like the name of the famous singer) has been named in the "Top 100 Places to Live" list by CNN/Money Magazine three times since 2005. Others have taken notice, including Hollywood. Saline was a production base for the Drew Barrymore movie "Whip It" and the Rob Reiner movie "Flipped" was shot, in part, at Saline's Liberty School and around town.
Still, Saline has preserved its historic roots: The mint green two-and-one-half story Curtiss Mansion on East Michigan Avenue just east of downtown, was built in 1876 and is considered one of finest examples of Second Empire architecture in the state. It remains in private hands. West of downtown, but still along Michigan Avenue, is Weller's Carriage House, a former Henry Ford mill and factory on the banks of the Saline River, which today serves as a wedding and events venue.
Downtown Saline combines the new with the old: Hip cafes and home décor boutiques stand side by side with barber shops that look like they stepped out of Andy Griffith's Mayberry. The four corners of Michigan Avenue and Ann Arbor Street anchor downtown, with Mac's Acadian Seafood Shack occupying the Murphy's Crossing building and representing a fine dining destination. Across the street, Pineapple House has been decorating fine homes for years. Down the street, the Merchant Square building was recently given a facelift. And in the summer, a farmers market moves into downtown on Saturdays.
On various days throughout the year, Saline adopts a festival atmosphere hosting events ranging from The Saline Celtic Festival to the Annual Holiday Parade and Holiday Week. Other events include the Summer Music Series, Sportscars to Saline, Saline's Summerfest, Saline Community Fair and Harvest of the Arts/Oktoberfest,
In town and around the blog, the Saline Fiddlers are the city's goodwill ambassadors. The student group has toured the globe with its own brand of American folk fiddle, bluegrass and jazz music.
Any account of Saline would be incomplete without mention of the Ann Arbor Antiques Market, the wildly successful antiques and collectible show held once a month form April through October at the Washtenaw Farm Council Grounds. While it carries the name of Ann Arbor, it's located closer to downtown Saline.
The Farm Council Grounds also hosts other happenings, and events there pull in more than 250,000 people a year, said Osterling.
While Saline continues to grow and change with the times, it remains a small town, Osterling said. "People come here for the quality of life. People like the fact that everyone knows each other."