Posted on
Sun, Nov 13, 2011 : 2:20 p.m.
Sons of Union Veterans search county cemeteries for Civil War soldiers' graves
By Lisa Allmendinger
Lisa Allmendinger | Ann Arbor.com
A small cemetery in Lima Township was the site of a recent extensive search for Civil War veterans.
Six members of Camp No. 180 Sons of Union Veterans of the Civil War slowly walked from grave to grave looking for birth and death dates on the tombstones that ranged from 1810-1850.
And when they had a hard time reading the old headstones, the Sons of Union Veterans covered the stone surfaces with brightly colored chalk, and then made a rubbing on special paper to bring out the details.
Michael Christiaens of Saline, the National Graves Registration Officer of Camp No. 180, served as the commanding officer during the search where as many as a dozen or more Civil War veterans' graves were expected to be found.
He said the camp members have been making trips to Washtenaw County cemeteries and logging their finds as part of a national graves registration project, which has been taking place throughout the country for the last 10 years.
Armed with maps and forms listing gravesites, the camp members spread out in pairs and mark the graves they find, logging names, dates and GPS coordinates.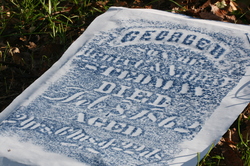 Lisa Allmendinger | Ann Arbor.com
"Each one will go into a national registry," he said.
All of the camp members can all trace their genealogy back to Civil War veterans, and hope to find every soldier in Washtenaw County who served in the Civil War. Along the way, they are also finding names of soldiers from other parts in the United States as well, said Bill Eaton, commander of the camp No. 180.
For instance, Dan Benfield of Ypsilanti Township said his mother had the discharge papers for Peter Perkins of Company L, 13th Illinois cavalry, who is a relative on his great grandmother's side of the family.
"They are a little worn, and I even have the tube the papers were mailed in," Benfield said.
Mike Van Wasshnova, also of Ypsilanti Township, said he started doing genealogy in 1980 and found a Civil War veteran, Thomas Lamirand, a great grandfather, on his father's side of the family.
Both Ypsilanti men are veterans as well. Benfield is a 25-veteran of the U.S. Coast Guard and the Navy, while Van Wasshnova served in the Army in Vietnam.
Bill Speer, of Chelsea, who now lives in Ann Arbor, said he had two great grandfathers who fought in the Civil War as did Bill McAfee of Milan. All of the men said they enjoy locating the graves and have taken an avid interest in the Civil War.
It's estimated that there were 92,000 soldiers from Michigan who served in the Civil War, McAfee said.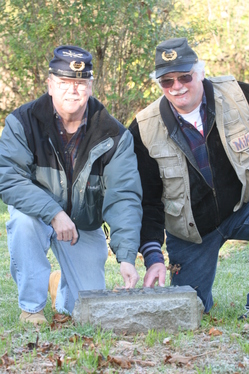 Lisa Allmendinger | Ann Arbor.com
There are 24 camps in the State of Michigan, said McAfee, a founding member of Camp No. 180, which was chartered June 27, 1999, and installed at the Dexter Historical Museum on Aug. 28, 1999.
"Carpenter-Welch Camp No. 180 was so-named by the charter members to show that it represents all of Washtenaw County," he said.
The name was taken from Carpenter Post No. 180 in Ypsilanti and Welch Post No. 137 in Ann Arbor.
The Carpenter Post was originally named for two Carpenter brothers from Ypsilanti, who never returned from the war, he said. "We are certain that one was John H., a corporal in Co. H, 14th Michigan Infantry, who was KIA action near Atlanta, Ga., Aug. 7, 1864 and buried in the National Cemetery, Marietta, Ga."
The Welch Post was named in memory of Col. Norval E. Welch, an attorney and University of Michigan alumnus who overstayed his enlistment and was KIA near Poplar Grove Church, Va., Sept. 30, 1864. He is buried in Forest Hill Cemetery, Ann Arbor, McAfee said. There are 109 registered cemeteries in Washtenaw County, McAfee said, and the men plan to search each one as part of the National Graves Registration Project, which was established in 1996.
According to information about the project, hundreds of Sons of Union Veterans of the Civil War have devoted thousands of hours visiting cemeteries, recording, verifying, researching and entering the final resting places of Civil War veterans, according to the group's website.
It is estimated that there are between 4.2 and 4.8 million Union Civil War Veterans, the website states.
"Due to mass burials, unreported battlefield losses, burials at sea and other circumstances, we can never expect to register all Union graves, but with your assistance we will succeed in honoring the 'boys in blue' to the best of our ability."
Lisa Allmendinger | Ann Arbor.com
McAfee said, there were about 92,000 soldiers from Michigan and among the home states of soldiers they've found are veterans from New York, New Jersey and Pennsylvania during their search.
The National Graves Registration Database was activated February 22, 2005, and all original registrations are available for viewing by the public.
Lisa Allmendinger is a regional reporter for AnnArbor.com. She can be reached at lisaallmendinger@annarbor.com. For more Saline stories, visit our Saline page.