Posted on
Sat, Jul 13, 2013 : 4:03 p.m.
Sunny, dry weather a boon for attendance at 18th annual Saline Celtic Festival
By Lisa Carolin
Previous story: 18th Saline Celtic Festival kicks off with a budget surplus
Saturday's sunny, dry weather is promising for good attendance at the 18th Saline Celtic Festival at Mill Pond Park in Saline, which runs until 11 p.m. The day kicked off with the new Mastodon Mayhem Challenge, a "warrior dash" run throughout Mill Pond Park that featured obstacles, mud and hills.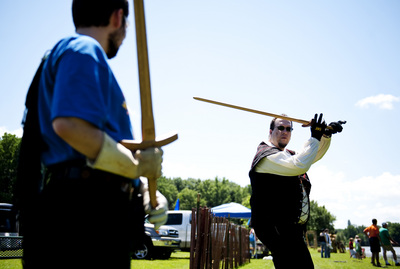 Daniel Brenner | AnnArbor.com
That was later followed by the opening ceremonies, which including an "inside the park" parade and a number of bagpipe bands including the Grand Rapids District Pipe Band.
"We've been at this Celtic festival for three years because we love the people and the culture, and it's a great venue," said bagpipe player Roger Billings.
"I've been playing the bagpipes for 42 years," said bagpipe player Michael Gunn. "It takes a lot of wind power."
The festival began as a celebration of Saline's relationship with its sister city Brecon, Wales. The Celtic traditions of Scotland and Ireland also are celebrated.
There was a Scottish and Highland dance competition in the morning that attracted participants from all over the state.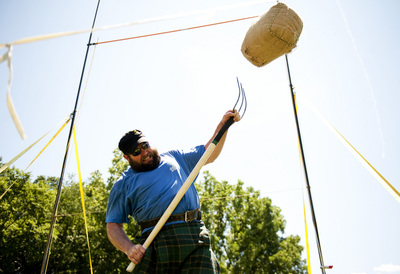 Daniel Brenner | AnnArbor.com
"It's fun to get out and perform and be part of the culture," said dancer Abigail Byrne, 14, from Novi, who has been dancing for seven years.
"I like competing and getting to travel all over America and Canada," said dancer April Thomas, 15, from Northville, who also has been dancing for seven years.
One addition to the festival this year was the relocated Saline Farmers Market. Vendors set up at Mill Pond Park just for the festival.
"I'm excited to be here," said Kristie Francoeur, who runs the Chocolate Art stand. "We're here 'til 7 p.m. and I'm hoping to attract more people."
Also new is the partnership between the festival and the Michigan Brewers Guild and Home Brewers Association, which is offering craft beers at the festival.
It wouldn't be a Celtic Festival without kilts for sale. At the Got Kilt? tent, prices on kilts range from $58 to $600.
Daniel Brenner I AnnArbor.com
"Our most popular kilt is the Black Watch, which is a standard kilt in navy, black and forest green," said salesperson Mike Burda, who said there are 4,000 varieties of kilts. "I like wearing them because you feel freer than in jeans or pants and because of my heritage. They're also fashionable. You can keep your cellphone in the side pocket."
Last year's festival ended with an $8,200 surplus for the nonprofit, the Friends of the Festival, said chairwoman Amber Sotelo. She says that good weather is a major factor in the financial success of the festival. Another important component - "Volunteers, volunteers, volunteers," she said. "Many people took this week off work to set up the park. They have such passion for this event."
For the schedule of Saturday's Saline Celtic Festival events, go to http://www.salineceltic.org/schedule.html. The festival kicked off Thursday with some pre-events.
Check back to AnnArbor.com for a full event photo gallery from the Saline Celtic Festival.
Lisa Carolin is a freelance reporter. Contact the AnnArbor.com news desk at news@annarbor.com.