Posted on
Wed, Sep 15, 2010 : 10:26 a.m.
Saline Superintendent Scot Graden's contract extended to 2014
By Tara Cavanaugh
The Saline school board voted unanimously Tuesday to extend Superintendent Scot Graden's contract through June 30, 2014.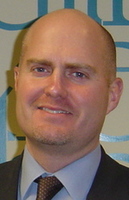 The board conducted its evaluation of Graden at its annual retreat on Aug. 17. The board evaluated Graden on meeting expectations and leading the district, giving him a 3.5 out of 4.
"Mr. Graden has done an excellent job of moving Saline Area Schools forward during a very tumultuous time," board President David Friese said. "As a board and a community, we are excited about the future under his leadership."
Graden earns $139,734 annually.
"The board has been consistently supportive of me since the day I started," Graden said. "I appreciate the show of support and it gives me confidence to do my job."