Posted on
Wed, Feb 22, 2012 : 4:10 p.m.
Man arrested on Tecumseh robberies pleads guilty to robbing Saline Domino's
By Kyle Feldscher
A Tecumseh man who robbed a Saline Domino's and then attempted to escape police custody pleaded guilty to all charges last week, according to court records.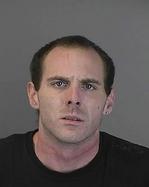 Courtesy of the Saline Police Department
He's also been arrested for allegedly robbing two businesses in Tecumseh.
Robert Neibler, 27, was arrested by Tecumseh police on three counts of armed robbery, one count of assault with intent to commit armed robbery, two counts of larceny from a building and two counts of carrying a dangerous weapon with unlawful intent. The charges stem from robberies at the Fabricare Laundromat and the Modish Hair Salon on Jan. 19 and Jan. 21, respectively, Tecumseh police Chief Troy Stern said.
Neibler also was arrested on unrelated forgery and uttering and publishing charges related to a fraudulent check he attempted to pass at the TLC Community Credit Union, Stern said in a statement. Neibler was arrested at the Washtenaw County Jail on Friday.
Stern said Saline police and Tecumseh police had been working together following Neibler's arrest in January for an armed robbery at a Domino's on Michigan Avenue.
"It was determined quickly that Neibler was likely a suspect in the Tecumseh robberies," Stern said.
Stern said Neibler admitted his involvement in the Tecumseh armed robberies during an interview at the Washtenaw County Jail. Police interviewed Neibler after waiting for forensic results from evidence collected at the scenes, Stern said.
On Feb. 14, Neibler pleaded guilty to one count of armed robbery, disarming a peace officer of a firearm, attempting to escape while awaiting trial for a felony and two counts of assaulting, resisting and obstructing a police officer.
Neibler was apprehended on Jan. 23 in Saline after he robbed the Domino's at 401 E. Michigan Ave. According to police, Neibler left a drug rehab facility in Ann Arbor and was driven to the Domino's by a friend. Police said Neibler got out of the car, entered the store and told an employee he had a gun before demanding money from the register.
Neibler got back into the woman's truck and told her to drive away, but police stopped the vehicle as it was heading north on Maple Road. Neibler was arrested at the scene and lodged at the Washtenaw County Jail.
On Jan. 25, Neibler attempted to escape police custody while being treated at St. Joseph Mercy Hospital. A Washtenaw County sheriff's deputy was escorting him to a restroom at 12:30 a.m. when Neibler assaulted the officer and attempted to remove the officer's gun from its holster, police said.
Neibler was eventually subdued and charged with attempting to disarm a police officer, attempted escape and assaulting a police officer. His bond was raised to $125,000, the level at which it's currently set.
Neibler has prior convictions for breaking and entering and uttering and publishing.
Neibler is scheduled to be back in Washtenaw County Trial Court Judge Donald Shelton's courtroom at 1:30 p.m. March 20 for sentencing. He faces a maximum of life in prison on the armed robbery charge.
Kyle Feldscher covers cops and courts for AnnArbor.com. He can be reached at kylefeldscher@annarbor.com or you can follow him on Twitter.