Posted on
Mon, Oct 17, 2011 : 1:17 p.m.
Vandals spray paint door and wall, break window at Saline Middle School
By Kyle Feldscher
Vandals struck two entryways at Saline Middle School between Sunday night and early Monday morning, uprooting plants, spray painting on doors and walls and throwing a rock through a window, according to a police report.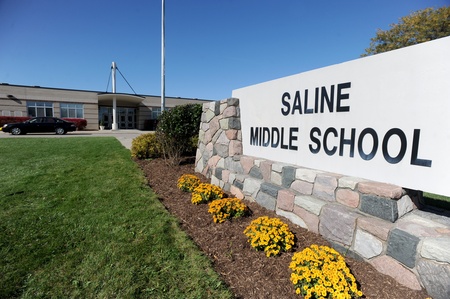 Angela Cesere | AnnArbor.com
The police report stated the vandalism occurred sometime between 9 p.m. Sunday and 6:15 a.m. Monday, when a woman walking by the school called police to report damage to the building.
The report stated paint had been sprayed on the door and wall of the east entry to the school.
In addition, two small pine trees had been uprooted and placed in front of the doors, according to the report. A large tan planter containing a yellow mum plant was overturned and parts of the mum plant were stuck into the door handles, the report stated.
A school employee notified the officer on scene that a window in the south entry near the gym had been shattered, according to the report. A rock was found in the hallway of the south entry way, which is near the school's gym, according to the report.
The employee who notified the officer of the shattered window was the last reported person in the building and left the building at about 9 p.m. Sunday, the report stated. There was no damage to the building at the time he left, the employee told police.
Police are currently looking for suspects in the case. Anyone with information is encouraged to email Det. Don Lupi or call the Saline Police Department at 734-429-7911.
Kyle Feldscher covers cops and courts for AnnArbor.com. He can be reached at kylefeldscher@annarbor.com or you can follow him on Twitter.