Posted on
Tue, Feb 22, 2011 : 11:10 p.m.
Saline school district voters turn down $22 million bond extension
By Lisa Allmendinger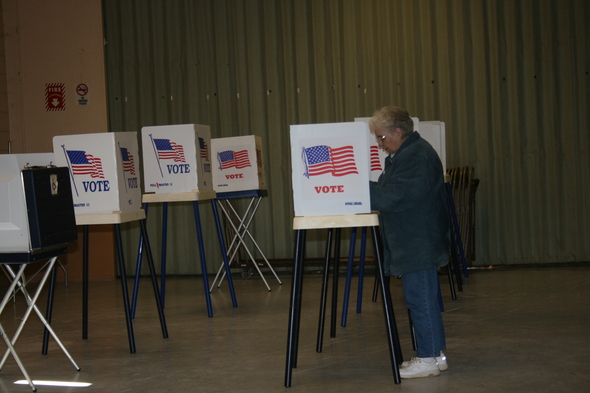 Lisa Allmendinger | AnnArbor.com
For the second time in six months, voters in the Saline school district on Tuesday turned down a bond request — this time a retooled version— by a margin of 2,563 to 2,040.
Voters in the City of Saline, Saline and Lodi townships, and portions of Freedom, Bridgewater, Pittsfield and York townships were asked to approve a $22 million bond issue, which would have added $22 million in new debt to the current $124 million bond and extended payments through 2031.
About 4,600 of the 19,200 registered voters cast a ballot.
Despite the bond defeat, Superintendent Scot Graden said, "We are committed to providing the best possible education in the best possible environment."
He said money must be invested in the schools, and there are projects that will have to be delayed. "We'll focus on the critical needs," he said. "We'll have to make some different choices."
School board member Craig Hoeft said the district must move to a Plan B.
"Now the future's a little different," he said. "The people have spoken, and we'll move on. There have got to be things we can do; we'll get the community together, and Scot is great at doing that, and we'll decide what we need to do from here."

Currently, taxpayers are paying a 7-mill levy through 2025 — or $700 per year for the owner of a home with a taxable value of $100,000. If the proposal had been approved by voters, the levy would have been extended another six years.
The ballot language stated the bond would be used for "remodeling, furnishing and refurnishing, and equipping and re-equipping school buildings; acquiring and installing educational technology in school buildings; acquiring school buses; and developing and improving playgrounds and sites."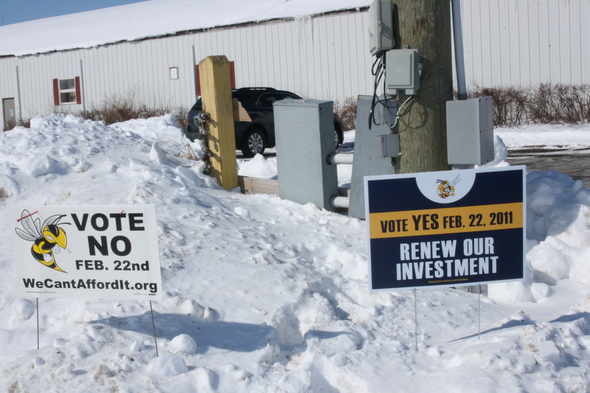 Lisa Allmendinger | AnnArbor.com
Cheryl Law said she voted in favor of the bond.
"I definitely voted yes," she after casting her vote at the Washtenaw Farm Council Grounds Tuesday afternoon. "We moved to Saline for the school district. I'm here to support the renewal."
The school district has about $200 million in fixed assets, Graden said.
"I think they are trying to sneak it in in February," said Jane Mamarow, who didn't want to disclose how she voted. "But I think it's a shame that more people don't vote in school elections."
The bond was a revamped version of the proposal rejected by voters in the 2010 primary election and was $4 million less than the previous proposal.
Had the extension passed, Graden said in November that about 85 percent of the bond would be used for building and site improvements in the district and 15 percent for technology and busing.
"(The school district) ought to be able to manage their money," said resident Ed Mamarow, who did not wish to say how he voted Tuesday. "They have two schools they aren't using now. It's OK to bail them out once in a while but … ."
An organized opposition to the bond was launched with the rallying slogan of "We Can't Afford It." The group's information stated the bond extension was "mortgaging our children's future."
In Bridgewater Township, the bond failed 29 votes to 13 votes. In Lodi Township, it was defeated 626 votes to 354 votes.
Pittsfield Township voters approved the measure 493 votes to 363, while in the City of Saline, the bond was turned down 903 to 727.
In Saline Township, it went down 185 votes to 78, and in York Township, it lost 457 votes to 375.
Lisa Allmendinger is a reporter with AnnArbor.com. She can be reached at lisaallmendinger@annarbor.com. For more Saline stories, visit our Saline page.