Posted on
Mon, Dec 5, 2011 : 6:05 p.m.
Woman charged with writing bad $1,500 check in jewelry scam to be in court Tuesday
By Kyle Feldscher
A 32-year-old Grass Lake woman will face a preliminary hearing Tuesday for allegedly writing a bad check to pay for more than $1,500 in jewelry from a Saline store.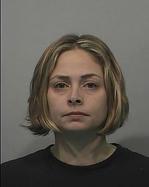 Courtesy of Saline Police Department
Jayme Schaffer
was arrested in November and charged one count of writing a check with non-sufficient funds, more than $200. According to Saline police, Schaffer allegedly wrote a check for $1,547.60 in August to pay for an 18-karat braid style necklace and a 14-karat custom rholodite ring from
Accent Jewelers
, 112 E. Michigan Ave.
Saline police Det. Don Lupi said this isn't an isolated incident for Schaffer and she allegedly has committed similar crimes in other southern Michigan cities.
"She has committed similar types of crimes in Coldwater, Howell, Marshall and Ann Arbor," Lupi said.
On Aug. 18, Schaffer allegedly went to Accent Jewelers and had the owner of the store show her several pieces of jewelry. She decided to purchase the necklace and ring and allegedly used the storeowner's pen to write the check, police said.
On Sept. 2, the owner of the store called Saline police to report Schaffer's bank account did not have enough money to cover the purchase of the necklace and ring. Police received warrants to search Schaffer's financial records and found similar transactions in other cities.
The Washtenaw County Prosecutor's Office approved an arrest warrant for Schaffer in late October. On Nov. 19, Saline police were notified that Schaffer had been taken into custody at the Calhoun County Jail, and she was transferred to Saline to be processed at the Washtenaw County Jail, according to the police report.
Schaffer will be in court at 1 p.m. Tuesday at the 14A-1 District Court at the Washtenaw County Service Center, 4133 Washtenaw Ave., for a preliminary examination in the case. Schaffer has a previous conviction for embezzlement in Jackson County, according to the police report.
Kyle Feldscher covers cops and courts for AnnArbor.com. He can be reached at kylefeldscher@annarbor.com or you can follow him on Twitter.