Posted on
Fri, May 7, 2010 : 6:03 a.m.
Salon Vox pushes for change in state law in effort to provide customers free alcoholic drinks
By Ryan J. Stanton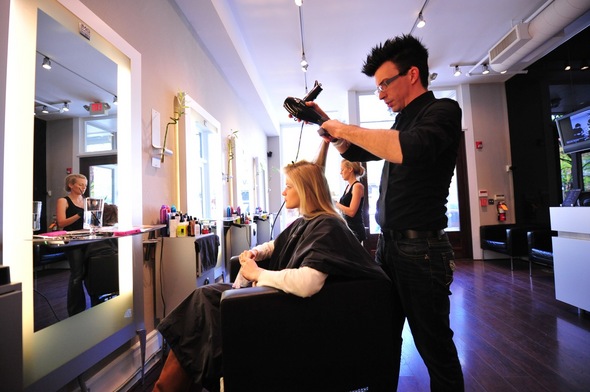 Ryan J. Stanton | AnnArbor.com
At Salon Vox in downtown Ann Arbor, exceptional customer service is considered an essential part of the guest experience. Until a police crackdown last year, that included occasionally offering complimentary alcoholic beverages to customers while they had their hair styled.
What harm is there in a free glass of wine or beer? It turns out if a business doesn't have a license to sell liquor, it isn't even allowed to give away alcohol, according to the Michigan Attorney General's Office.
Salon Vox, 115 W. Liberty St., is now making a push to change state law to be able to offer free drinks to customers — without the threat of getting charged with a misdemeanor crime.
Tony Lupo, the salon's director of sales and marketing, announced at Thursday's meeting of the Main Street Area Association that Salon Vox is launching a petition drive to get state Rep. Rebekah Warren, D-Ann Arbor, to take up the cause. The initiative has support from the Ann Arbor Area Chamber of Commerce and other downtown businesses.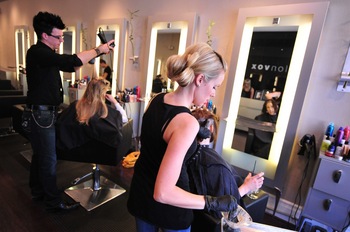 Ryan J. Stanton | AnnArbor.com
Kyle Mazurek, the chamber's vice president of government affairs, has worked with Salon Vox to help navigate the bureaucracy, as well as bring the issue to Warren's attention. Having touched base with several bar and restaurant owners to make certain they're not opposed, the chamber is signing on as a supporter of what it considers "a common sense fix to this issue."
Warren could not be reached for comment Thursday.
Lupo said it's not just in the interest of the salon, but many other small businesses are affected by the current statutes on the books.
"The implications of it are absolutely huge," said Lupo, adding that even a law office with a brandy cart or an art gallery with a bottle of red wine is in violation of the law right now if it's offering free drinks to clients.
Via a sign-on letter hosted on Google, Salon Vox is recruiting electronic signatures of support for its cause. Click here to view the full text of the letter.
The initiative has bipartisan support. Kevin Green, a Republican legislator from Grand Rapids, also is interested in the cause. In March 2008, the attorney general's office ruled a barbershop chain in the Grand Rapids area was violating the liquor law for offering free beers with haircuts.
"We do not agree with this interpretation of the law and believe that rectifying it is in the best interests of our small businesses and local economy," reads the pre-formed letter Salon Vox is asking supporters to sign.

"For years, countless unlicensed Ann Arbor area small businesses served complimentary alcoholic beverages to patrons without incident. It was a customary practice of certain hair salons, day spas, clothiers and art galleries, to name a few. Local law enforcement was aware of this and took no action to prevent it prior to issuance of this attorney general letter."
Lupo said Salon Vox and other small businesses that offered complimentary drinks didn't charge for the service. They carded patrons to ensure they were of legal age, he said, and they limited consumption and did not serve those who appeared intoxicated.
"What they were attempting to do was create an interesting concept, a unique experience that set them apart from businesses in other markets," the letter reads. "All the while, they were adding to our community's destination appeal — thus supporting our local economy."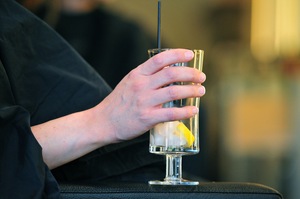 Ryan J. Stanton | Ann Arbor.com
Salon Vox is calling for the Michigan Legislature to roll back the attorney general letter, allowing businesses to go back to offering free drinks. As a second option, the salon says the Legislature could create a special license that certain businesses like salons, art galleries and clothing shops could apply for to be able to provide free drinks.
Lupo said Salon Vox has no delusions about competing with bars or other establishments with liquor licenses by offering free alcoholic beverages.
"We want to provide that next level of amazing experience in service to clients," he said. "We want to provide a unique concept, and really liquor licenses don't apply to us because we're not a bar or restaurant.
"A lot of people have advised us — 'You're not going to get caught, just continue to do it,'" he added. "But being who we are, we really wanted to advocate for this issue. We don't want to serve martinis in coffee mugs or something like that. We want to be able to provide that high level of service that we're used to serving. And we actually want to impact policy change so that other people in our shoes can benefit from this as well."
Salon Vox claims it's important to note the attorney general's office has indicated its interpretation is just that — nonbinding and merely advisory in nature. Local law enforcement is therefore free to determine its own course of action with regard to the issue, the salon claims, but both the Ann Arbor City Attorney's Office and the Washtenaw County Prosecutor's Office have indicated they intend to follow the state's interpretation.
'"The law is what it is," said City Attorney Stephen Postema. "We've looked at this issue in the past and I think it is covered by state law and, to the extent that it's covered by state law, we would certainly enforce it."
Mary Fales, senior assistant city attorney, said the city believes the attorney general's opinion is consistent with state statute.
For businesses like Salon Vox that can't get a liquor license, Fales said, there is one option. Under current state law, nonprofit organizations are able to obtain a small number of special permits each year that allow them to host events where alcohol is served. Any business could partner with a nonprofit organization to host a fundraiser and serve alcohol.
Salon Vox, which opened in 2006, has been recognized by Elle magazine as one of the "Top 100 Salons in the United States." For its first three years, part of its charm was the free beverages it served.
"That's what made it even harder, because clients are used to coming in and getting something different," said salon owner Jeniffer Hepler, who now offers clients drinks like water, coffee or tea. "It's just a bonus to get a complimentary beverage — beer or wine — and just all part of the experience. I do think it's hurt the experience to lose that."
Hepler said she believes the law can be written in such a way that it doesn't let just anyone serve beer. She said it must be carefully managed.
"We definitely want it to be done in the right way, where there would be special situations, hours, rules and regulations," she said. "I think that's all very important. I don't think it should just go to anyone."
The Michigan Liquor Control Commission released a memorandum on March 25, 2009, in response to numerous inquiries regarding the legality of non-licensed businesses allowing customers to consume alcohol on premise. Read the memo here.
Ryan J. Stanton covers government for AnnArbor.com. Reach him at ryanstanton@annarbor.com or 734-623-2529.