Posted on
Tue, Jul 27, 2010 : 6:02 a.m.
Sandi Smith defending 1st Ward seat on Ann Arbor City Council against Sumi Kailasapathy
By Ryan J. Stanton
Voters in Ann Arbor's 1st Ward will decide next Tuesday between two Ann Arbor City Council candidates with vastly different perspectives and priorities.
Sandi Smith, who was first elected two years ago, is seeking reelection. She's a University of Michigan graduate and local real estate professional with a long history of community service and a pro-growth outlook.
Ryan J. Stanton | AnnArbor.com
"Unfortunately, I don't think we can cut our way to prosperity," Smith says. "We can trim, we can cut, but we still need to increase at the revenue side. We need to look at proactive ways to bring more businesses and increase our tax base."
Sumi Kailasapathy, a political newcomer with hesitations about new development, says Smith has been ineffective on council and has worked only to increase city spending and debt at the expense of basic services.
A native of Sri Lanka, Kailasapathy admittedly has little record of community involvement in her 13 years in Ann Arbor, but says she believes her skills as an accountant with a background in political science would be an asset. She vows to go over the city's budget with a fine-toothed comb and cut wasteful spending.
"Money is being mismanaged and, being a CPA, I think I can bring something to the budgeting and cost controls and things like that," she says. "That's my primary motivation to come in, because I think I can bring an accounting discipline."
Smith and Kailasapathy, both Democrats, will face off in next Tuesday's primary election. The winner advances unopposed to the November general election.
The 1st Ward matchup is one of four contested city races, including the mayoral bout between incumbent John Hieftje and challenger Patricia Lesko. Kailasapathy has aligned herself with a slate that includes Lesko, 4th Ward candidate Jack Eaton, and 5th Ward candidate Lou Glorie.
The four have jointly waged an aggressive campaign calling for the ouster of the current council majority. They condemn the council for making cuts to basic services and laying off firefighters, while spending millions on a new police-courts building and an underground parking garage.
"Our priority now should be funding the unfunded pension benefits, which is over $200 million," Kailasapathy says. "It's like you have all these credit card bills and you don't want to pay that, and then you are borrowing and going and building something silly, and that's how I see it. We have to get our priorities right."
Kailasapathy is half-correct about the city's unfunded pension liabilities. As of the city's last audit, the pension system was 93.6 percent funded, with an unfunded liability of $28.9 million. However, future retiree benefits are only 30.5 percent funded, with a $161 million hole to close — a challenge many cities across Michigan face.
Additionally, city records show the city's debt rose more than 25 percent between 2006 and 2009, going from $167.2 million to $209.9 million. Meanwhile, governmental activities spending increased from $96.9 million to $130.2 million.
Smith acknowledges city spending has gone up, but says it's mostly because of rising employee wages and benefits and needed capital investments. She says the city is negotiating with its labor unions to get employee costs under control.
"Everybody's costs are going up," she says. "We keep cutting, but the costs of having employees, providing health insurance and these benefits, are rising. There's no doubt."
Kailasapathy criticizes the city for adding to its debt by taking on projects like the police-courts building and the underground parking structure on Fifth Avenue.
Ryan J. Stanton | AnnArbor.com
"Debt means we also need to pay interest on those debts, so that's going to really put Ann Arbor city in a more disadvantaged position," she says. "So, take on less debt and also prioritize our expenses. Just focus on the core services like roads, bridges, police and fire, and put aside nonessential expenses."
Smith defends the police-courts building and underground parking structure, saying both projects were needed, and the city identified revenue streams to fund them with minimal impact on the budget. In the case of the parking structure, Smith says, the project will pay for itself with revenue from users of the parking system.
In the case of the police-courts building, city records show annual debt payments are set at $1.86 million for 30 years — about $735,496 of which is being covered by discontinued leases. The Downtown Development Authority agreed to take on $520,000 of the remaining cost, while $374,180 is coming from revenue from antennae sites and $225,000 from court tickets.
"There's a certain kind of debt that is a true, absolute liability on the city, and then there's a debt that's funded with revenue," Smith says.
Smith says it's important for Ann Arbor to continue investing in infrastructure. She says the police department badly needed a new headquarters, and she's proud the city found a way to make it happen in tandem with new space for the courts.
"We need to invest in the future. We need to invest in our infrastructure," Smith says. "We need to invest in things like single-stream recycling. We need to do these things. We need to invest in our sewer plant."
Developing differences
In addition to taking a more fiscally conservative approach to the city's budget, Kailasapathy also says she would be more hesitant about approving new developments in Ann Arbor.
Kailasapathy, who says she's "not really into pro-development within the city," believes there are too many vacant structures in Ann Arbor to justify adding new buildings to the mix right now.
Ryan J. Stanton | AnnArbor.com
"I personally think I don't like ... putting new development in," she says. "I think with all these empty spaces and stuff, personally, we need to figure out how to use them, because you don't want closed down buildings and neglected buildings."
Smith says she's pro-growth and, with other sources of revenue drying up, reeling in new investment is the city's best chance for success without raising taxes.
"I've heard pretty loud and clear that nobody wants an income tax," Smith says. "But we have a need to have revenue. Forty percent of our land is off the tax rolls between the university and our vast park system. And we lost almost 5 percent of our tax base when Pfizer moved out, so we have a demand for high quality of life, we demand our services, but we don't want to pay a penny more. So the only way to do that is to expand your tax base. Development will do that."
Smith recently supported both the Moravian and Heritage Row, two apartment developments that proposed adding density in a near-downtown neighborhood made up of student rental properties and single-family homes. Both projects failed to get the eight votes needed for approval from council, which pleased Kailasapathy and neighbors who opposed them.
"I voted for the Moravian," Smith says. "I know that is very upsetting to some people, but while I was collecting signatures, I had probably a 2-to-1 kudos for voting for it. So people who are not adjacent to it really want more of that going on."
Kailasapathy notes both projects were Planned Unit Developments, which means the developers were asking for exceptions to the city's zoning rules. She says she has a particular dislike for that kind of development because it gives City Council members a chance to pick winners and losers.
Kailasapathy says she fears Ann Arbor is trying to become "the next Chicago," but actually might end up turning into "a knockoff of Southfield."
"That's not a vision for Ann Arbor for me, no offense to Southfield," she says. "I feel we can build on what our treasures are, like these small stores and small businesses. And even instead of a convention center or a big hotel, what I would really like is the Allen Creek Greenway belt coming here. I mean, people are not going to come here to look at an ugly building, but if we can really enhance our environmental aspects, then I think that will be the asset."
Smith also supports the Allen Creek Greenway, but her overall vision for Ann Arbor is much different than Kailasapathy's. After several years of working toward new downtown design guidelines and zoning changes, Smith says she's looking forward to watching the downtown fill in with new development in the coming years.
"With the design guidelines in place, some of the work we've done right now before there's a lot of new building will maintain that pedestrian scale and continue to make it interesting, more lively," she says. "When we get enough residents, then we start to get to the tipping point where we can start getting more groceries and services downtown that people expect to do by foot."
Smith says she wants to see more residents living downtown, and the streets filled with more of a mix of daytime and nighttime users. She says she doesn't think the city will change much outside of the downtown, but she sees opportunity for some infill development in near-downtown neighborhoods.
"I think that the energy that the university is putting into the tech spinoffs and the bio spinoffs is going to continue to create businesses that are here," Smith says. "Economic growth in the new economy is not by five hundreds or thousands. We're not likely to have a large plant or a Pfizer locate here. We'll have growth by ones and fives and tens and that's OK."
Smith's road to politics
Smith grew up in Bloomfield Township in a subdivision she describes as "classic sprawl." While in high school, she considered her options for college and toured several universities along the east coast before settling on U-M.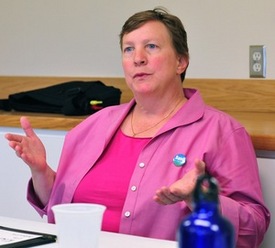 Ryan J. Stanton | AnnArbor.com
"There was just something about Ann Arbor that had this allure," she says. "And after I did all that touring, I looked at my folks and I said, 'Take me over to Ann Arbor.' And as incredulous as they were, I came to the University of Michigan and played field hockey varsity first year, which was a big draw for me."
Smith arrived at U-M in 1981 and, like many Ann Arborites who found themselves transplanted here, fell in love with the city and never left.
She earned a bachelor's degree in psychology. But before graduating, she began a career in real estate that she continues today.
After working at a couple of real estate companies, Smith and her partner, Linda Lombardini, founded Trillium Real Estate in 2001.
"We had enough business on our own that we felt that would work, so we launched off kind of moments before 9/11, which was really kind of unfortunate," Smith says. "Business has been tumbling ever since, so it's been a hard road."
Smith and her partner have been together 15 years. They live and work in downtown Ann Arbor and talk proudly of their renovated office space.
"In late 2008, we bought our building in Braun Court and it was just a shell," Smith says. "We renovated it and we did a lot of the work ourselves. I did all of the design work and it's about as green of a building as you can get."
Smith, who handles mostly residential properties, says she also has been working in new construction with a green home builder called Living Space Builders.
Smith has served on a number of boards and committees for the city, including the Housing and Human Services Advisory Board, Council Rules Committee, Audit Committee and Community Events Fund Committee. She also has chaired the Housing Board of Appeals and served on the Downtown Development Authority for the last six years — predating her election to council.
"That was sort of my first appointment, and I really have enjoyed my volunteer work there," Smith says of her spot on the DDA. "It's a chance to make a difference in the city. You start seeing things you never realized before — all the pieces that make the city work."
Smith also has served on a number of task forces, including the Greenway Task Force and the Police Courts Building Design Committee. She lists several accomplishments in her first term on the City Council, including doubling the occupancy of the emergency shelter system last winter, supporting funding for foreclosure prevention and restoring funding for human services.
She also worked to stop the installation of parking meters in near-downtown neighborhoods, eliminated a controversial loading zone permit program for downtown, and supported expansion of the city's recycling program.
"I've sponsored a lot of legislation," Smith says. "If you go to Legistar, you can search by name and see how many different things I've done. And I've noticed that there are people who have been on council twice as long as I have who have less than I have. I'm active, I'm prepared when I go to the table, and I'm absolutely willing to raise the questions that sometimes people don't want me to ask."
From Sri Lanka to Ann Arbor
The story of how Kailasapathy, a political activist from Sri Lanka, came to live in Ann Arbor has all the makings of a drama fit for the silver screen. It involves a daring escape under the cover of night from her war-torn country at the age of 22, with nothing in hand but a passport and a change of clothes — so not to draw attention to her plans of fleeing.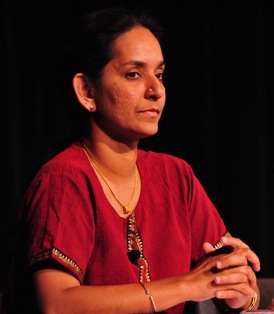 Ryan J. Stanton | AnnArbor.com
"I don't have any pictures of my dad, I don't have any mementos, any remembrance," she says. "My mom said 'just run' because they warned me that the next day they were going to come and sweep up all the activists, and they did, and they killed all of them."
Kailasapathy lived in Jaffna, Sri Lanka, during the 1980s while a violent civil war was raging. After finishing high school, she went to the University of Jaffna to study business and found herself heavily involved in student activism.
She co-founded the Poorani Women's Organization, served as treasurer of the University Students Union, and was an active leader defending civil and human rights. She says the Students Union played a courageous role in defending the civilian space from the guns of government forces and a rebel group known as the Tamil Tigers.
"Some of the members were assassinated," she says. "In the sense, we were caught between the military on the one hand and the Tigers on the other hand. They were coming to civilian areas, shooting at the military. The military would shoot us back. And again, many of the students were killed. And there came a point when many of the Tamil Tigers took over and some of us were lucky enough to flee but many of them died."
After fleeing to the United States in the early 1990s, Kailasapathy enrolled at Wellesley College in Massachusetts. She continued her activism there, working through Amnesty International for the release of her fellow students who were being held prisoner by the Tamil Tigers.
She earned a degree in economics and political science from Wellesley College and a master's degree in political science from the New School for Social Research in New York. She moved to Michigan in 1997 to be with her husband, Giri Jogaratnam, a professor at Eastern Michigan University. They have two sons who attend Ann Arbor Public Schools.
Kailasapathy taught courses in gender studies, international political economy and globalization at EMU from 1997 to 2007 before transitioning into a career as an accountant. After focusing on being a mother for the past 13 years, she says she's ready to be politically active again.
Kailasapathy says the fact that the Tamil Tigers finally were eliminated last May gave her reason to think. But she says going back to Sri Lanka is out of the question at this point in her life.
"I'm a U.S. citizen and my kids like it here and my husband is here and we are going to live here," she says. "Ann Arbor is my home. This is where I'm going to live, this is where I'm going to die, so I might as well make it the place I want to live in."
Placing priorities
Kailasapathy says she sees herself as the fresh "outsider" the City Council needs. But in these tough economic times, Smith is stressing that Ann Arbor needs the continuity that only the city's current leadership can provide.
Both candidates vow to work hard to represent the priorities of the Ann Arbor community, but Kailasapathy suggests Smith doesn't listen well to constituents.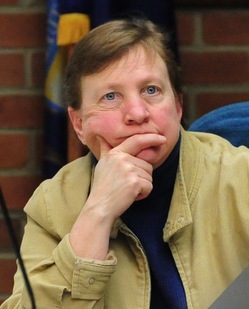 Ryan J. Stanton | AnnArbor.com
"I feel that I will listen to them carefully and make my decisions based on what the residents need, not based on what a developer needs," she says.
Kailasapathy says she's against using tax dollars to fund business attraction efforts through Ann Arbor SPARK — efforts Smith supports. Kailasapathy says the city should first focus on maintaining its roads and bridges, as well as its parks.
Commenting on the city's failure to replace the Stadium bridges, Kailasapathy calls it just another example of the "misplaced priorities" she says plague city government.
"It's how we choose," she says. "I mean, limited resources are acknowledged. Yes, the tax income base is reducing. We have less revenue to spend. That's agreed. But then how we choose to spend is the whole problem."
Smith says the Stadium bridges will be replaced next spring. Instead of rushing to spend $23 million, she says, the city is being fiscally responsible and, after years of trying to reel in outside money, is applying one last time for state and federal grants.
Smith and Kailasapathy have differing views on the city's recent investment in single-stream recycling. Smith calls it a progressive move forward that will increase recycling while saving $650,000 a year. Kailasapathy questions the upfront costs and says she isn't convinced it's going to improve recycling in Ann Arbor.
Another difference between Smith and Kailasapathy is a willingness to consider a city income tax. Smith says she's willing to put it on the ballot for voters to decide, but Kailasapathy thinks wasteful spending must be eliminated before a new tax is considered — even if it would reduce property taxes and shift some of the city's tax burden onto commuters.
"Don't get me wrong, I'm not against taxes," Kailasapathy says. "Just because I'm a CPA, don't think I'm like 'cut, cut, cut.' No, we live in Ann Arbor because we love this. Yeah, taxes are high, but I think, 'Hey, it's well worth it.'"
Smith says she feels like she just arrived on council. While much of her first term was devoted to working on the city's budget, she thinks the budget is now stabilized, and she's looking forward to working on other initiatives if given a second term.
In Their Words
Here's what Smith and Kailasapathy had to say on other issues.
Airport Runway Expansion

Smith: "I'm not in favor of the expansion. We are very fortunate to be near an international airport. We're 20 minutes away and we can fly nonstop to Tokyo, and we have the Willow Run Airport. There's no need for an expansion in order to create a more robust airport here."

Kailasapathy: "I am totally dead against it because some people showed me reports that I looked at. The expansion is primarily built on rich people flying. They need more space and more planes are coming in."

City Income Tax

Smith: "I personally am not completely in favor of that, but I am completely now in favor of allowing it to go on the ballot and let the community have a broad and robust dialogue about whether this is good for the community for the short-term or the long-term and how it affects each different segment of the population."

Kailasapathy: "Don't we have to first eliminate waste before we advocate putting new taxes in?"

Argo Dam

Smith: "I'm a dam-in person. I understand the health of the river. I also understand that there may be an opportunity to do a project that is kind of an integrated approach where we can make some fast water areas, we can restore some movement to the river, but yet maintain Argo. I'd like to see it there."

Kailasapathy: "I'm 100 percent for Argo Dam. I have looked at several reports, including many of the engineering project reports that have come out, and it becomes very clear that there's no kind of engineering reason for the dam to go."

Fuller Road Station

Smith: "Particularly if we can leverage federal, state and university dollars, I think it will be a huge economic boon for us. And it's green. How can you get more green than a mass transit station? And our investment so far has been very minimal."

Kailasapathy: "I basically think it's going to be a parking lot for the university, and I haven't been convinced that the train is coming. Even the whole idea that people are going to come from Jackson and here and there. I mean, Ann Arbor is a little town. Do we want all this traffic?"
"I'm interested in regionalization and having us look beyond political boundaries, reach across US-23 and shake hands with Ypsilanti," she says. "Let's look at transportation issues and see if there are better ways to get people back and forth to Ypsilanti. We're doing express buses to Canton and Chelsea. My God, why aren't we doing it to Ypsilanti?"
Kailasapathy says she would focus on cutting costs and seeking concessions from employees.
"We really need to negotiate with the city employees," she says. "I'm not against unions. I'm not against benefits, but they would have to share more of the cost. That's the only way we can make the gap shrink. Otherwise, there's no way. It's not sustainable."
Smith says she has a lot of experience in cutting costs, and not just with the city.
"I'm also a small business owner and I know firsthand what it's like to keep the doors open, to trim excess fat out of a budget, to make payroll, while costs are skyrocketing," she says. "My insurance premiums went up 39 percent this year, and we had to make adjustments."
Kailasapathy has been questioned for aligning herself with Lesko, who has been criticized for her combative style and inaccuracies in her campaign messages. Kailasapathy says she and the members of her slate, Lesko included, are sticking together.
"It's the four of us," she says. "The common platform we have is to ouster the council majority. We have our different styles, we have our own personalities, and not that we agree on everything. But there is something common that is to get the current majority out."
Smith says she doesn't care for negative campaigning, and that's mostly what she's seen from what she calls "the Lesko slate."
"Slinging mud is not a way that I would choose to campaign or live my life," she says. "In my ward, people have asked me these questions that are outrageous and there's only one possible source and it would be from the Lesko slate. So to have claims of impropriety and corruption and backroom dealing is, one, unsubstantiated and, two, rather insulting. I had somebody suggest I start running a campaign to counter it and I won't do it. I'm running on my merits."
With Ann Arbor notorious for having low turnout in primary elections (11 percent of registered voters cast ballots last August), it's likely that a relatively small number of residents will go to the polls next week to choose between Smith and Kailasapathy.
For Kailasapathy, the fact that most Ann Arbor residents will stay home is unfathomable. She recalls her first election in Sri Lanka after she turned 18. The Tamil Tigers set up road blocks, she says, and killed people who tried to vote.

"You know what my mom did? She made me wake up early in the morning and she said, 'Let's go really early when it's dark so they can't see,'" Kailasapathy says. "I was excited and I wanted to vote, so she took me and we both went to the voting booth and we voted. And when people tell me 'I don't want to go to vote,' I feel like 'do you know how we had to vote? We risked our lives.' I value it so much, and it's so precious for me."
Ryan J. Stanton covers government and politics for AnnArbor.com. Reach him at ryanstanton@annarbor.com or 734-623-2529.