Posted on
Sat, Nov 12, 2011 : 3:45 p.m.
Santa and Mrs. Claus arrive at Briarwood Mall
By Lisa Carolin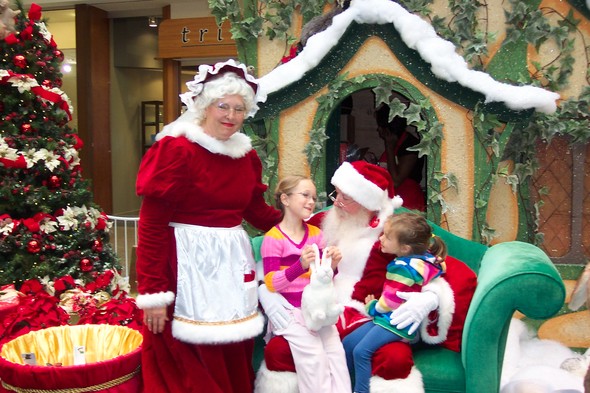 Lisa Carolin for AnnArbor.com
Santa and Mrs. Claus are wasting no time this year. They assembled a North Pole outpost at Briarwood Mall on Friday to get a jump start on Christmas.
"We need to make sure we have time to see everyone," said Santa Claus, who has visited Briarwood Mall for the last three years. "I love Ann Arbor, especially when the kids from the (University of Michigan) hospital come to see me."
Families were trickling in to see Santa this morning, and some said they didn't expect him this early.
"We were very surprised to see all the Christmas decorations here," said Tom Hill, who was visiting from Florida. He was with his 18-month-old granddaughter, Kaitlyn Edwards, from Ypsilanti, who saw Santa and seemed to take it in stride.
"She's a little wary of Santa but likes the animals and the setup they have," said Kaitlyn's mom, Kimberly Edwards.
The Rhizal family from Ann Arbor just happened to be shopping at the mall when 7-year-old Emmy and 4-year-old Maris spotted Santa.
"We just read 'A Christmas Carol' and watched 'Miracle on 34th Street,'" said their mom, Deb Rhizal.
"I asked Santa for a $40 dollar gift card for a horse ride," said Emmy Rhizal. "Maris told him she hasn't decided yet what she wants.''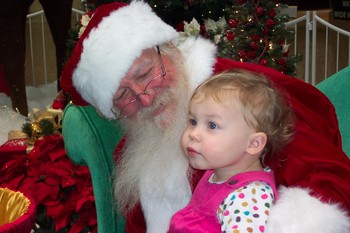 Lisa Carolin for AnnArbor.com
Leela Aiyagari, a 5-year-old from Ann Arbo,r was at the mall with her dad and little brother when they unexpectedly encountered Santa.
"I asked for a hula lessons outfit for me and an Elmo Rock Star for my brother," she said.
Twins Amelia and Emma Paxton, 5-year-olds from Manchester, were at the mall for haircuts when they spotted Santa and put in requests for a journal and a doll for Amelia, and a bell and a toy car for Emma.
Sisters Sophia and Julia Satarino from Milan asked Santa for Barbies and Zoobles. Their 10-year-old cousin, Paige Funchioni, asked for the number one request Santa has received so far: a Nintendo 3DS.
For younger children who found Santa a little overwhelming, Mrs. Claus was there to help put them at ease.
"I'm not quite as intimidating as Santa so I can walk up to children and not scare them," said Mrs. Claus. "The children are so much fun and the teenagers are a blast, too. I tell them they're not too old to visit with Santa."
Santa and Mrs. Claus said they have been together for more than 30 years. Their secret: "We want to be together the rest of our lives, so we ignore the little stuff," explained Santa.
Santa and Mrs. Claus will be at Briarwood Mall through Dec. 24 and invite families to join them for breakfast on Saturday, Dec. 3 from 8:30-9:30 a.m. The cost is $6 and supports The Family Hope Fund at the U-M C.S. Mott Children's Hospital.