Posted on
Wed, Nov 30, 2011 : 11 a.m.
Santa taking calls live on CTN A2TV Channel 17
By Julie Baker
Too impatient to mail a letter to the North Pole? Check out Santa on public access TV next week and talk to him yourself.
Community Television Network A2TV, Public Access Channel 17 (on Comcast Cable) will telecast the Santa Satellite Network live from Santa's home in the North Pole Thursday, Dec. 8 from 6 to 8 p.m., according to a news release.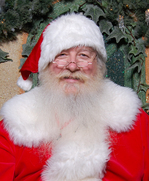 Courtesy photo
An annual tradition, boys and girls are invited to watch and call in to the CTN studio hotline at 734-794-6155 to talk with Santa, Mrs. Claus and their helpful elf, Audrey.
Kids are encouraged to ask their parents before making the call.
Encore presentations of "Santa Live" will be telecast Christmas Day, Sunday, Dec. 25 on Channel 17 (Comcast Cable) at 7 a.m., 9 a.m. and 11 a.m.
For more information about CTN, visit www.a2gov.org/ctn or call CTN at 734-794-6150.