Posted on
Fri, Apr 12, 2013 : 4:42 p.m.
Saturday bake sale, fundraisers planned for Pinckney girl severely burned in accident
By Amy Biolchini
After a bonfire accident left the daughter of one of their coaches severely burned, the Chelsea Hockey Association has stepped up to raise money for her medical treatment.
Family photo
Sarah Grundy
, 18, of Pinckney, is the daughter of Chelsea Chiefs Blue team Coach
Ken Grundy
of Chelsea and likely will need to be in the trauma burn unit at the University of Michigan's University Hospital for at least the next four months.
The first event coordinated by the Chelsea Hockey Association will be a bake sale from 8:30 a.m. to 1 p.m. Saturday in the lobby of the Artic Coliseum at 509 Coliseum Drive in Chelsea.
Donated baked goods for the sale should be dropped off by 8 a.m. Saturday, and should be marked if they contain nuts.
Sarah Grundy and her triplet sister, Ashlee Grundy, 18, were both burned in an accident involving a bonfire in the backyard of their home in Pinckney late on the evening of March 29.
Though the girls' mother, Sandy Lavey-Grundy of Pinckney, did not elaborate on the details of the accident, she said Ashlee helped to save Sarah.
"Ashlee had a huge part in helping to save her sister and to extinguish the fire, and as we were waiting for the ambulance," Lavey-Grundy said, explaining that Ashlee rode in the ambulance with Sarah and kept everyone calm.
"We are just overwhelmed with the support and we just can't believe the outpouring," Lavey-Grundy said. "It's just been incredible."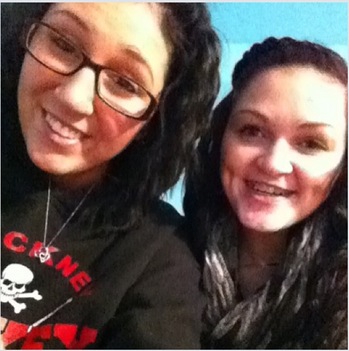 Family photo
With mostly third-degree burns across 86 percent of her body, Sarah Grundy has undergone several surgeries and can't talk because of a tracheostomy.
"The doctors and the surgeons are happy with her progress so far," Lavey-Grundy said.
Lavey-Grundy said she barely has left the hospital in the weeks that her daughter has been there, and is thankful for those that have brought home-cooked meals to the hospital.
"We would like to thank everyone who has donated or is planning on donating and showing their support for us and our little Sarah," said Ashlee Grundy. "We can't even begin to express how much it has truly touched our hearts. It means the world to us how much support we've received."
Sarah Grundy graduated in 2012 from Pinckney High School and was preparing to enroll in the nursing program at Washtenaw Community College.
Two additional events have been organized to raise money for Sarah Grundy's medical bills:
April 16 from 4 to 9 p.m. at RJ's Grill at 7476 East M-36 in Hamburg: All-you-can eat pizza, spaghetti, breadsticks and beverages for $12; proceeds go to the family
May 5 at Buffalo Wild Wings, 900 S. Latson Road, in Howell: 20 percent of all purchases with the presentation of this downloadable flier will be donated
Amy Biolchini covers Washtenaw County, health and environmental issues for AnnArbor.com. Reach her at (734) 623-2552, amybiolchini@annarbor.com or on Twitter.