Posted on
Wed, Sep 26, 2012 : 5:57 a.m.
'Save the Ann Arbor Library' committee forms in opposition to $65M library bond proposal
By Ryan J. Stanton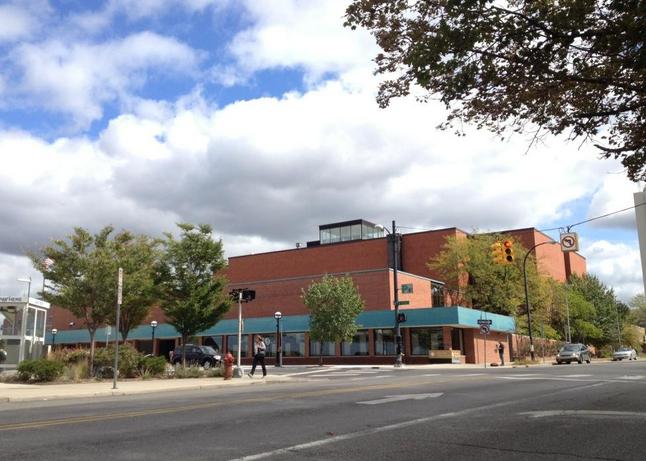 Ryan J. Stanton | AnnArbor.com
A second campaign has been launched in
opposition to the Ann Arbor District Library's plans
to demolish the downtown library and build a new one in its place.
Ann Arbor resident Doug Jewett, a self-described "library aficionado and public nuisance," filed paperwork with the county clerk's office on Tuesday to form a committee called Save the Ann Arbor Library, arguing it's a mistake to tear down the aging building.
So far it's not clear if the committee's membership includes anyone other than Jewett, who has started a blog at http://savetheannarborlibrary.blogspot.com.
Jewett could not be reached for comment. But in an open letter to AADL Director Josie Parker on his blog, he calls the downtown library "the true civic center of Ann Arbor."
He argues "tearing down our magnificent library would risk deeply offending the gods." Describing its potential demolition in graphic detail, he compared it to an act of terrorism.
"If terrorists were to accomplish the same end result there would be rage and weeping across the land," he wrote to Parker.
Library leaders are asking voters on Nov. 6 to approve $65 million in bonds for construction of a new downtown library, demolishing and replacing the current one at Fifth and William.
The estimated millage to be levied to pay off the bond is 0.56 mills. That would cost the owner of a home with a $200,000 market value and a $100,000 taxable value about $56 per year.
A grass-roots group calling itself Protect Our Libraries also formed recently in opposition to the bond proposal for a new downtown Ann Arbor library. There are now two formal committees against it and one committee called Our New Downtown Library in favor of it.
In his most recent blog post, Jewett notes a good portion of the library facing demolition actually was the result of a renovation a little more than 20 years ago.
Supporters of a new library argue the current building is past its prime. They've posted an "under the hood" video online to give the public a glimpse of what they mean by that.
A library facilities committee report states the current building — first constructed in 1958 and updated twice, most recently in 1990 — has inadequate capabilities for meeting patron needs for safe, quiet reading space and has outdated heating and air conditioning systems.
It also found the facility lacks sufficient meeting space for community events and large presentations, needs capacity for additional infrastructure to meet growing computer use, does not have space for children's programming and services that reflect the needs of contemporary families and students, and does not have an auditorium. After reviewing renovation possibilities, the committee determined that a new facility built on the site of the existing building was the most cost-effective solution.
Peter Baker, a member of the Our New Downtown Library group, responded to the latest showing of opposition via email Tuesday night.
"While we take no joy in seeing buildings of any era discarded, there comes a point when usage has changed so significantly, and the option of retrofitting a twice-already-retrofitted building becomes untenable, that it simply becomes more than some buildings can adapt to," he said.
"We would like to see the library saved by investing in it, and making sure it remains a useful and relevant resource to current and future generations."
Jewett acknowledges on his blog there have been concerns about problems with the existing building for several years now, and he said those deserve continued discussion.
"But for me the inconvenient truth is that the proposed remedy requires smashing the existing building to rubble," he writes. "If the voters of Ann Arbor and surrounding townships vote NO on the bond issue, the discussion continues and may lead to a broader and more nuanced consensus."
Jewett plans to keep yard signs and stickers at his home at 404 W. Keech Ave. He said he will be there every Sunday between about 4 p.m. and sunset if anyone is interested in his campaign.
Some are wondering what will happen to the downtown library's collection during construction if voters approve the bond proposal. Parker said on her director's blog the staff will be considering all options for maintaining services during construction.
"We intend to keep the collection status available online for requests, but most of it will not be physically browsable," she acknowledged. "We will use our branches and other rented spaces in the library district to continue our programming for all ages. We hope to find a space downtown that we can use as a temporary downtown branch, too."
Ryan J. Stanton covers government and politics for AnnArbor.com. Reach him at ryanstanton@annarbor.com or 734-623-2529. You also can follow him on Twitter or subscribe to AnnArbor.com's email newsletters.