Posted on
Thu, Jan 17, 2013 : 5:58 a.m.
Scarlett Middle School community mourns loss of beloved math teacher Scott Turner
By Danielle Arndt
The Scarlett Middle School community — past, present and future — is mourning the loss of a popular, dedicated and beloved teacher this week.
Scott Turner, 42, a long-time mathematics teacher at Scarlett Middle School, died Monday night, after battling esophageal cancer since this summer.
So many close to Turner said he was the type of person who made an immediate impact.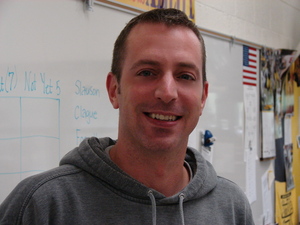 From A2schools.org
Connie Gibson, whose daughter was in Turner's Algebra class this year, said: "I've only known him since September, but it's been rough."
"We're having a real tough time of it," she said quietly.
Parents, staff, students and even past students all were rocked as the news of Turner's death spread Tuesday. Tears flowed at the school and the district went into crisis mode to help the Scarlett community cope.
Teachers and administrative staff met with eighth-graders to share with them the devastating news of Turner's death shortly after they arrived at school Tuesday. Staff told the rest of the student body later that morning.
Scarlett Principal Gerald Vazquez also informed parents with children at the school about the loss in an email early Tuesday.
"We will be keeping a close eye on all of our students throughout the day and the rest of this week," Vazquez said in his email.
School counselors and members of the district's crisis team have been available Tuesday and Wednesday to support and comfort the staff and students at Scarlett, Huron High School and other buildings former Scarlett kids now attend.
"We are with the students, counseling them, talking to them, making sure they know we are here for them," Vazquez said. "... We are sharing in our grief in the loss of Mr. Turner."
Turner taught math at Scarlett for at least 18 years. He helped to organize an annual Math-a-thon to benefit the St. Jude Children's Research Hospital for 10 years.
Within the decade, Scarlett Middle School raised a total of about $10,937 to support St. Jude's mission of preventing, treating and curing pediatric cancers and other life-threatening diseases, according to its website.
Gibson credited Turner with making math fun for her daughter. She said as a parent, she knew she could depend on him.
"24/7," Gibson said. "He really went out of his way to help students — email, his blog, homework help sites online, all the parents had his phone number and could call anytime.
Service Information
Visitation
Thursday, Jan. 17
3 to 9 p.m.
Harry J. Will Funeral Home
37000 W. 6 Mile Road
Livonia, MI 48152

Funeral

Friday, Jan. 18
10 a.m. — Lie in state
10:30 a.m. — Mass
St. Kenneth Catholic Church
14951 N. Haggerty Road
Plymouth, MI 48170

Scarlett Memorial Celebration

Tuesday, Jan. 22
6 p.m.
Scarlett Middle School auditorium
3300 Lorraine St.
Ann Arbor, MI 48108


In lieu of flowers, the family asks that memorial contributions be made to St. Jude Children's Hospital in Scott's honor.
"He will be missed but I'm so glad my daughter had him."
Two of Charlotte Mayhew's children had Turner for math at Scarlett. She echoed Gibson's sentiments, adding that Turner was one of the most dedicated and patient teachers her children have ever had. She said he always was responsive to parents' concerns and students' needs, meeting with them on his lunch hour and before or after school.
"He was so flexible and just really enthusiastic about teaching," she said. "And being enthusiastic about math with middle schoolers is really important."
Mayhew said Turner was open with his classes about undergoing cancer treatments. And he continued teaching even during the weeks he had chemotherapy, Gibson said.
"He worked last week," Mayhew said. "Nobody was aware of how sick he was, I think. He just kept going. It was always about his students."
For Sharon Turner, Scott's mother, that was how he always was.
"That was Scott. That was just what he did," she said. "He was always a wonderful, very special young man. He was good to everyone and passionate about everyone he ever loved. He had a heart of gold."
Scott Turner leaves behind his wife, Kelli, and a 17-year-old son, Austin. He was the youngest of four brothers and two sisters.
Sharon Turner said Scott's diagnosis was particularly difficult for their family, as Scott's father and one of his uncles also died from the same cancer. But Scott had an upbeat attitude, his mother said.
"He kept very positive all the time. So we were supportive of him. He was convinced this was something he could beat and would beat and of course we wanted him to, too. So this is still so raw," she said of his death.
What always will stand out to Sharon about her son was his willingness to lend a hand and to do for others.
"He would help anyone and everyone," she said. "If someone called him to do something for them, it was never later; it was always: 'I'll do it now.' He would drop anything for a friend in need."
Scott Turner's love of the Boston Red Sox was something former student Elinor Chambers will never forget. Chambers, a college sophomore at Tulane University, had Turner for seventh-grade math at Scarlett Middle School.
When Chambers had him, within the first couple days of school, Turner brought in a box of stuff — stuff he liked and wanted his students to know about him, she said. She recalled him pulling out a bunch of Red Sox memorabilia, a CD with all of his favorite bands and a variety of other mementos.
"He talked about his kid ... and his wife and showed us all the things he was into and it really set the tone for the year," Chambers said. "It was his way of having us get to know him."
That was what Chambers respected about him as a teacher, she said.
"He didn't put himself above all of us. I think he was unique in that way. It was like we were all in this together and when we didn't understand, he didn't make it our problem. He welcomed our questions, even if we were clueless or didn't get it at all, he laid it all out for us."
Chambers is a pre-medical student at Tulane but she still has thoughts about teaching and Turner's impact is one of the reasons.
"He's one of my favorite teachers to this day and is hands-down the best math teacher I've ever had," she said. "And I've taken a lot of math — all through high school and three semesters at college."
After receiving the news that Turner had died, Chambers posted a message on her Facebook page, like so many others who loved and knew him. She credited him with making the "always awkward and, at times, awful" experience of middle school so much less awkward for her.
"Words cannot describe how great a loss this is," she wrote, "not just for those who knew and were inspired by Mr. Turner, like myself, but also for all of the students who will miss out on experiencing class with a truly exceptional teacher."
Danielle Arndt covers K-12 education for AnnArbor.com. Follow her on Twitter @DanielleArndt or email her at daniellearndt@annarbor.com.