Posted on
Sat, Sep 15, 2012 : 2:29 p.m.
Scenes from U-M football tailgates: Superfan retires, Pictionary, DJs, and Beer Bongs
By Ben Freed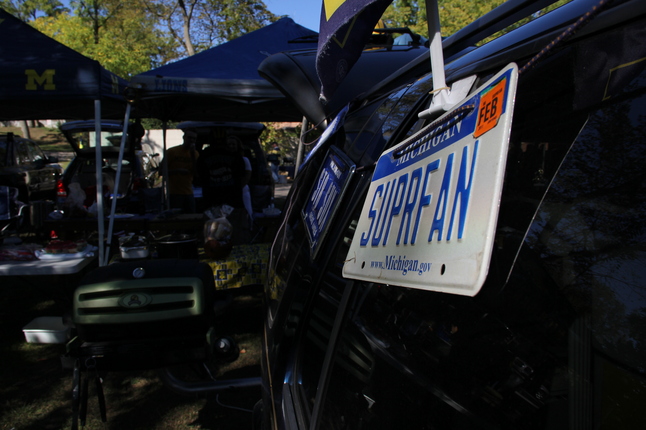 Ben Freed | AnnArbor.com
The Superfan: Retired, but not forgotten
Jeff Holzhausen has been a fixture at Michigan sporting events since "before the trees," he said. But the "Superfan," known for his helmet, cape, and impossibly tall flagpole retired after last year's victory over Ohio State.
"After Bo died, I said I'd retire after the next time we beat the Buckeyes," he said at his tailgate by the corner of Hill and South Main Street.
His tailgate crew consists of about 10 cars full of people every week, with more coming and going throughout the season. They cook a different menu every week; this week's was an "east coast" theme with crab cakes and a clam bake in honor of UMass.
Holzhausen says he still plans on being at every game, and now he'll have more of a chance to enjoy himself in the stands rather than having to make sure everyone around him is supporting the team at appropriate decibel levels.
The State Street Scene: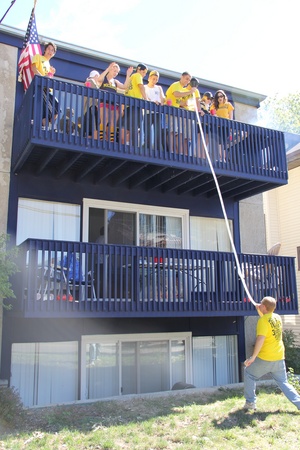 Ben Freed | AnnArbor.com
While the more "adult" tailgates often pride themselves on their food choice or the high quality of their mixed drinks, with students the competition for best tailgate often comes down to who has the loudest music or tallest beer bong. A walk down South State Street on Saturday showed students reveling, dancing to blaring rap and Top-40 music behind the orange netting that "separates" their property from the sidewalk. It's a different style of tailgate, but one that would be recognized at college campuses across the country.
Go DJ, that's my DJ:
Canada Mike AKA DJ Playboy has been coming in from Toronto for every home game for more than 10 years. He said in Canada, Michigan and Notre Dame get most of the TV coverage, so he started following the Wolverines from a young age.
When he came to a game while in high school, he fell in love with Ann Arbor and the Michigan "community."
A professional disc jockey by profession, Mike decided that his row of the Pioneer High School tailgate deserved better music, so he decided to bring his entire DJ set-up to his tailgate.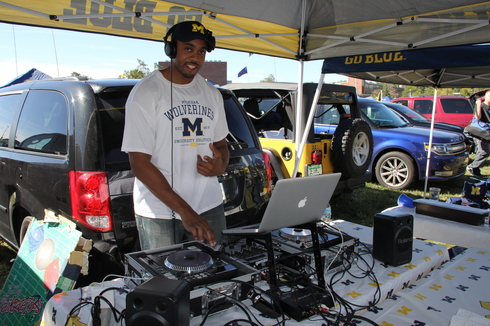 Ben Freed | AnnArbor.com
"We're just helping everyone have a good time, this isn't a serious DJ gig," Mike said.
"We just love the community atmosphere. We'll play whatever anyone wants if they come up and request it, doesn't matter what kind of song."
He and everyone around hopes they'll get to listen to the Michigan Band play "The Victors" plenty of times after Michigan scores throughout the season.
They bring the big dog: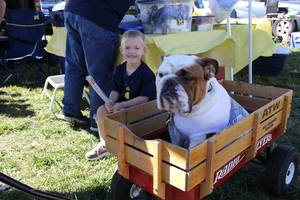 Ben Freed | AnnArbor.com
Two year-old Hank's favorite player is Denard Robinson, but the dog does not share his idol's speed.
"He is not fast at all. I have to drag him around in this wagon," owner Elizabeth Sickler said.
Sickler was the 14th member of her family to graduate from Michigan, and has been coming to games for years. Her sister, Emily Sickler, preceded her at U-M and takes credit for the "Hail" shirts that have proliferated over the past few years at the Big House.
"I made these shirts that said 'hail.' for my row of 15 girls at the stadium in 2001," she said.
"People liked them a lot, so we started making a few orders and then we got a cease and desist order from the university because they said they owned "hail." Next thing you know the shirts are everywhere."
Even after their run-in with U-M's legal department, the Sicklers still come back for every game, and from now on Hank will, too.
The Board Game Tailgate: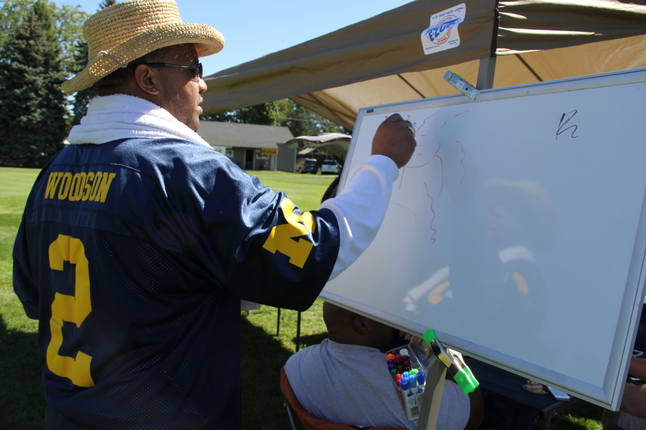 Ben Freed | AnnArbor.com
Most tailgaters play games that involve tossing bean bags, golf balls tied together, ping pong balls, or washers. But one tailgate at the Ann Arbor Golf and Outing Club has a different idea of fun. "We play Zero (a card game), Michiganopoly, Pictionary, all kinds of games,"
Nick Calloway
said.
Calloway, who grills for the tailgate and refers to the party as "Nick's Kitchen" said he and his friends have been coming out for years and have between 10-20 people come out for every home game.
Their tailgate tent is adorned with the usual Michigan paraphernalia - and white boards, a Pictionary must.
Ben Freed covers business for AnnArbor.com. Reach him at 734-623-2528 or email him at benfreed@annarbor.com. Follow him on twitter @BFreedinA2