Posted on
Fri, Nov 2, 2012 : 6 p.m.
Board passes resolution to make 'good faith effort' to ensure Willow Run teachers are hired in new district
By Danielle Arndt
The Willow Run Board of Education passed a resolution Thursday night supporting its teaching staff.
The resolution said the existing Willow Run school board would make a good faith effort to help ensure the district's teachers are hired in to the new, Ypsilanti-Willow Run consolidated district, should the proposal pass during Tuesday's election, Willow Run teachers union president Kathleen Miller said Friday.
Miller, who attended the school board meeting, said the union has similar language in its collective bargaining agreement, stating if the district is consolidated, dissolved or privatized in any way, the district would attempt to preserve teachers' positions.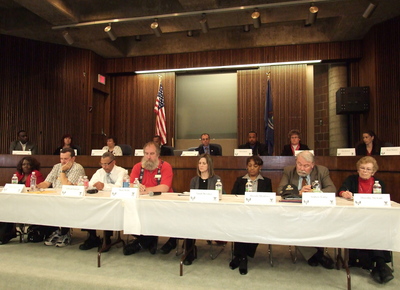 AnnArbor.com | Danielle Arndt
"To me, it was nice to see they were following our contract and making a good faith gesture. But in no way do I believe that the resolution they passed last night states that all of my teachers will be guaranteed their jobs if we merge," Miller said.
She said it was "very professional" of the board to respect the contract language and it pleased her to see the teaching staff acknowledged, although she added she knows staffing decisions will be up to the newly appointed school board.
If the ballot proposal to merge Ypsilanti and Willow Run schools is approved, the Washtenaw Intermediate School District's Board of Education will have 10 days to appoint a new seven-member board to manage both districts until the new district is official in July 2013.
Ypsilanti Education Association President Karen Siegel said Friday she was concerned by the gesture that the Willow Run school board made and wished Ypsilanti's Board of Education had passed such a resolution.
"I commend Willow Run for supporting their teachers," Seigel said. "But there are two districts involved in this. Personally, I wish our board had come out and made a statement.
"A lot of people in the community want to know who the teachers will be," she continued. "It would have been nice if they could have voted knowing that the teachers are supported. It's not binding, and we know that, but just to send a signal to the new board, and then the community could know we are going to look to be hiring the teachers that people already know and trust and have built relationships with the community and have commitments to their kids."
Ypsilanti school board President David Bates said he does not believe Seigel has anything to worry about, that the new board will look at the entire pool of teachers and teachers' openness, attitude and approach, as well as experience, will play a big role in staffing decisions.
He added he does wish he had known Willow Run was planning to take this action.
"This is one of the reasons communication is so important. If we'd have known about it, then we could have done it, too," he said.
Ypsilanti has a "very, very fine and high quality" teaching staff, Bates said, and he has "no doubt" that its staff will be considered equally when it comes time to make decisions about teachers.
Teachers in both districts have been told they likely will be required to re-apply and interview for their jobs, should the consolidation proposal pass. This will be determined by the new, appointed board as well.
Danielle Arndt covers K-12 education for AnnArbor.com. Follow her on Twitter @DanielleArndt or email her at daniellearndt@annarbor.com.