Posted on
Fri, Dec 7, 2012 : 9:09 a.m.
School board trustee invites area residents to coffee hour; WCC student welder wins national competition
By AnnArbor.com Staff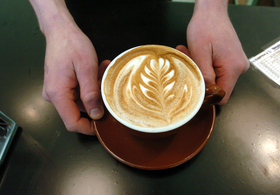 File photo | AnnArbor.com
From a student welder from Washtenaw Community College winning a national competition to a coffee hour with a local school board trustee, here's a roundup of some of the stories posted on AnnArbor.com's Community Wall this week:
By: Janet Hawkins: WCC Welder is Best in the Nation
WCC welding student Alex Pazkowski won first place in the American Welding Society SkillsUSA U.S. Invitational Weld Trials in Las Vegas.
By: Andrew Thomas: "Coffee Hour" With School Board Trustee Andy Thomas
Ann Arbor School Board Trustee Andy Thomas will hold his monthly coffee hour on Tuesday, December 11, 7 p.m. at Sweetwaters, 123 W. Washington Street.
By: Susan Garavaglia: Holiday Season is No Exception - Ensure Safe Sleep for Infants
By: Janet Hawkins: WCC Winter Classes Start Soon--Sign Up Now! and WCC Student Qualifies for National IT Championship
By: dotdash: University of Michigan Athletics refuses to let Big Heart Big House charity use the stadium
By: Craig McCarthy: Concordia University Ann Arbor Hires Lonnie Pries at its New Athletic Director and Head Football Coach
By: Tanya YpsiGirl: Free Women's Sexual Health Sex Toy Party
By: Ann Arbor Academy: Students with learning challenges can thrive at Ann Arbor Academy - Open House Wednesday, December 12 from 6:30 - 8:30 pm
By: Justin Fisette: United Methodist Retirement Communities welcomes Wendy Brightman as Executive Director of the UMRC Heritage Foundation
By: Meagan: Health Care Reform Seminar
By: Go LIke the Wind Montessori: A Sense of Place: The Study of Ann Arbor
AnnArbor.com's Community Wall is a spot for local people to post local stories, news and announcements. To post a story, sign in to AnnArbor.com, then go to www.annarbor.com/community and use the Got News? Tell Us function at the top to submit your news. If you have a photo to add, e-mail it to us at community@annarbor.com, and we'll insert it into your story.