Posted on
Thu, Aug 15, 2013 : 5:59 a.m.
School officials: Not all laid-off Ann Arbor teachers will be called back
By Danielle Arndt
Ann Arbor Public Schools likely will not be able to recall all 233 laid-off teachers, district officials said Wednesday.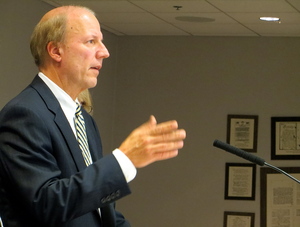 To date, about 190 teachers of the 233 issued pink slips in May have been invited to return to their classrooms — just in time for the 2013-14 academic year.
However, for the remaining 40 teachers who are watching and waiting as the weeks dwindle down to less than three before school starts, that invitation may never come, and these teachers most likely will be out of work.
Interim Superintendent David Comsa and Director of Human Resources Cynthia Ryan told AnnArbor.com at Wednesday's regular Board of Education meeting that the district may be able to recall a few more teachers by Friday. But that probably will be it before school starts, if at all this year, Ryan said.
"Honestly, I don't think that 40 will be able to be called back, unless there are some more retirements," she said.
This is the first time in recent history the Ann Arbor Public Schools has had to follow through with laying off classroom teachers. The district also issued layoff notices in 2010 but was able to recall all of the pink slipped staff that year.
Ann Arbor Education Association President Linda Carter could not be reached Wednesday night to comment for this story. She said in an interview last week that she did not see a reason for this year to be a historic year for AAPS as far as layoffs are concerned.
She noted that AAPS received 41 teacher retirements and resignations this summer, which is one more than the number of teacher reductions the school board approved in June. So in last week's interview with reporters she was cautiously hopeful that all of AAPS' teachers being able to keep their jobs.
In passing their 2013-14 fiscal year budget, trustees approved reducing the district's teaching staff by about 40 FTE (full-time equivalents). The breakdown was expected to be:
27 undesignated teaching positions, a savings of $2.7 million.
3 reading intervention specialists, $300,000.
3 teachers at Skyline High School (allowing Skyline to remain on trimesters), $300,000.
3 fine arts/physical education teaching positions through attrition, $200,000.
3 P.E. teachers from cutting the extra P.E. credit requirement at the high schools, $400,000.
The news that teachers will be out of work is a big blow to a district that has prided itself on being able to achieve staffing reductions through attrition; and in Comsa's opinion, the blame lies with the state.
When asked about what these first official layoffs mean to the Ann Arbor Public Schools, Comsa said: "My only comment is the legislature needs to fund schools so we don't have to lay off teachers."
Danielle Arndt covers K-12 education for AnnArbor.com. Follow her on Twitter @DanielleArndt or email her at daniellearndt@annarbor.com.