Posted on
Mon, Jan 7, 2013 : 5:57 a.m.
Washtenaw County schools adjust to serve, transport growing number of homeless students
By Danielle Arndt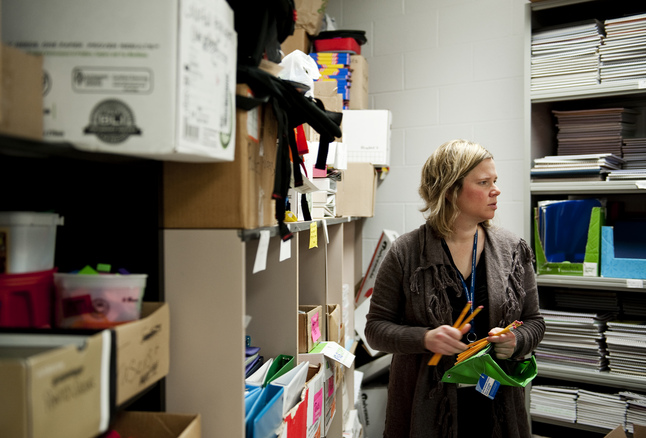 Daniel Brenner I AnnArbor.com
Student homelessness continues to rise in Washtenaw County, and school districts are beefing up training to answer the call. Providing transportation, a federal requirement, also has been a challenge for schools.
From 2010 to 2011, homelessness among students grew 32 percent, according to numbers provided by the Washtenaw Intermediate School District's Education Project for Homeless Youth.
Numbers increased from 973 students served to 1,282 students served in a year's time and are on track to jump again for the 2012-13 academic year. These totals do not include homeless youth who haven't been identified or families who have refused to accept services, said Education Project Program Manager Jennifer Martin.
Each public school district and charter school in Washtenaw County has a homelessness liaison officer who works closely with the Education Project. The liaisons' primary responsibilities are to ensure their districts comply with the McKinney-Vento Homeless Assistance Act, which was created to ensure all youth, including homeless or transitional youth, have equal access to a free and stable public education.
With that mission in mind, McKinney-Vento requires all public districts and charter academies to provide free transportation for homeless kids to their schools of origin; to enroll homeless children immediately, even if they lack the usually required documents, such as immunization records or proof of residence; and to enroll children who are awaiting foster care placement.
Identifying homeless students is the primary responsibility of the liaison officers. The second responsibility is helping those children get to school, said Ann Arbor Public Schools liaison Azibo Stevens.
Emergency or "stop-gap" transportation is provided and paid for by the Education Project in order to give school districts the opportunity to work with families and discuss the best, most permanent form of transportation for them, Martin said. The project typically will provide this transportation for up to a week after a homeless family has been identified. It also allows time for enrollment and other paperwork to be processed.
Rerouting buses, public transportation passes, shuttles and taxicabs are frequent solutions to homeless families transportation problems. Or if a member of a family member has a vehicle and agrees to drive the child to school, sometimes districts will issue gas cards and mileage reimbursements to families, Stevens said.
The Ann Arbor district spends about $165,000 per year transporting homeless students.
Too many kids to taxi
Under the McKinney-Vento Act, if a child attending AAPS suddenly becomes homeless, the parent has a legal right to keep the child enrolled at AAPS, even if the family is forced to move in with a relative in Ypsilanti, Chelsea, Canton or even Detroit.
Stevens said he might try to discourage a family from doing this, if he thinks the commute is not in the best interest of the child. But legally, AAPS must provide transportation no matter what the family's decision.
Stevens said he has had children endure an hour-plus ride in a taxicab in the past to get to school.
This fall, because of the volume of requests, Blue Cab, the company the county uses for taxiing homeless students, has had to cut off its services to districts and the Education Project.
"They said they've had too many this year. There is no more room in the books," Stevens said.
In the spring of the 2011-12 academic year, Blue Cab had to make a similar statement, Martin said.
"That does say a lot that the time frame has changed," she added. "We were surprised they filled up so quickly this year."
Martin said the lack of taxicabs has not been a huge inconvenience as of yet. The Education Project has been able to work around it and the Ann Arbor district is the primary user of cabs among the county's traditional public schools, Martin said. Stevens indicated AAPS has adjusted reasonably well.
Martin said if the number of homeless youth continues to grow by 30 percent to 40 percent, as it has the past few years, the Education Project would have to look at other options.
Hope Island, 27, is a homeless mother living in Ypsilanti with her two boys, 9 and 11. She and her sons moved to Ann Arbor from California three years ago for a "fresh start."
Island had lost her job and her apartment in California and also was needed to help take care of her ailing father and younger sister, both of whom also struggled with homelessness in Washtenaw County.
For Island, whose boys grew up without a father, without grandparents and had been shuffled around a lot, giving her children stability in a school system was important to her. It outweighed the 30-minute cab ride.
Island said while some parents may look down at families who put their young children in a car with a stranger to get to school, it is sometimes the only option she and others in her situation have. Island said she made a point of meeting the cab driver the first morning.
"And my kids know if something doesn't seem right to let me know," she said. Island's children ride in a cab with two or three other students who are also homeless and staying in Ypsilanti.
Daniel Brenner I AnnArbor.com
The schools and Blue Cab also work together to ensure that, whenever possible, the same cab driver is picking up and dropping off the children every day, Stevens said.
'Hope' and success
Island has held a number of odd jobs since moving to the area.
Nearly three years ago when she came, the only job she could find was as a bell ringer for the Salvation Army outside of Kroger.
For their first year in Washtenaw County, Island and her boys spent many of their evenings in and out of shelters. But for the past two years, Island has been fortunate to be part of SOS Community Services' Transitional Housing Program.
Through this program, SOS provides an apartment to approximately 16 families at a time. The families are required to pay SOS 30 percent of their monthly incomes for rent and SOS pays the rest, according to the organization's website. Families can be a part of this program for up to two years and at the two-year mark, the families can remain in their apartments and begin paying rent on their own.
During the program period, SOS also provides intensive case management and employability services to its families.
Island's two years with SOS are up this month, and she is both thrilled and anxious to re-take control of her life and her expenses.
Island has found a stable job doing custodial work for the University of Michigan. She said it's exciting because although she still works the night shift from 5 p.m. to 1:30 a.m., meaning her sister still gets her boys ready and in the taxi for school, she has her weekends off to spend time with her family.
"Before I started at U of M in September, I was out of work for like two months. And SOS was a really big support for me during that time," Island said. "They helped me with my job search and getting everything around."
While she doesn't yet feel "really secure" and she still has some fears about losing her job or losing her home, Island said her confidence is growing.
"I'm ready to be able to do everything on my own again," she said.
Building allies and identifying homeless students
Connecting families like Island's to the resources they need to get them back on their feet is a crucial part of a homeless liaison officer's job.
"Aside from coordinating transportation and finding the most economical and viable way for families to get their kids to school, we sit down to find out what families' immediate needs are and long-term goals. Then we match them with the resources to help them achieve those goals," Stevens said.
Stevens said truancy is sometimes an issue among homeless students, so he tries to monitor students' attendance rates. He also works to provide food to families, including turkeys around the holidays.
This is Stevens' third year as the homeless liaison for Ann Arbor Public Schools. When he first started, aside from helping families with their basic needs, he also tried to spend time assisting students with their academics — providing homework help, support and mentoring when he could.
Children who are homeless are more likely to experience developmental delays, anxiety, depression, behavioral problems and lower academic performance than housed children, according to an Education Project report.
But now as Stevens' caseload continues to grow, he is looking elsewhere for mentors and volunteers to help students achieve academic success.
Prior to creating Stevens' position, Ann Arbor served 135 homeless students in 2007-08, 142 in 2008-09 and 177 in 2009-10.
When Stevens was brought onboard, AAPS served 225 students in 2010-11 and 257 students last year. Stevens said the district is on track to identify and serve approximately 320 students for the current academic year.
According to a national indicator, districts should have a homeless student population equal to 10 percent of their free and reduced-price lunch population.
Martin said identifying homeless students is not an exact science, but districts use this national indicator as a target to see how many homeless students it potentially should be serving.
"In some districts, they could be doing a good job at identifying (students) and it's more a matter of the national indicator is just not right for their school," Martin said. "But we have countywide trainings and resources available to help them improve their counts."
Last school year, Ann Arbor Public Schools had 3,878 students qualify for a free or reduced-price lunch. So, based on the national indicator, there were a possible 131 students that were not identified.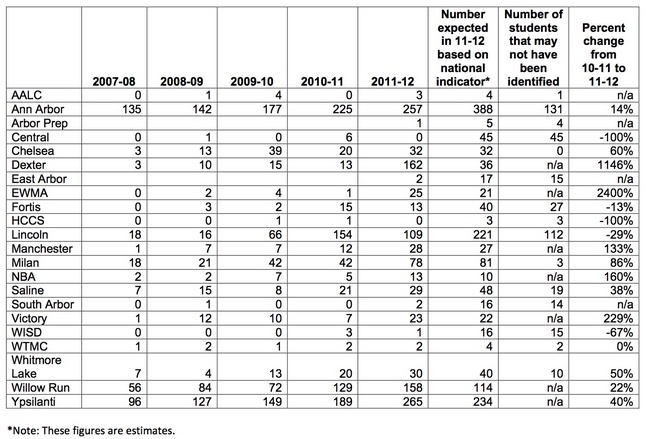 For the current school year, AAPS has implemented a building ally model. This model has been launched at each of the county school districts in the past few years. Essentially, one or two individuals at each school are trained to identify risk factors and homelessness red flags to help recognize potential homeless individuals.
'I'm not homeless'
Prior to the McKinney-Vento Act, "homeless" was a term used to describe people or families sleeping on park benches or under bridges, Stevens said. But McKinney-Vento has broadened this definition to be more true to form.
The list of who is eligible for services under the McKinney-Vento Act is vast.
"We try not to use the word homeless when talking to families," Martin said.
In Washtenaw County, the majority of families are "doubled up" or living temporarily with another family, after losing their jobs and then homes to foreclosure or eviction.
"Sometimes parents have a hard time seeing this as being homeless because they have a warm roof over their child's head (when staying with someone else)... They don't realize they can receive support," Martin said. "… We see this as a real strength in our community though, too, that people are willing to pull together and help out."
She added while families have good intentions when they take in their friends or relatives, often it doesn't work out to be a viable solution.
Personalities clash, tensions are high and homeless children can act out and start not getting along with other kids in the home due to the trauma of being displaced, Martin said.
Extended illness, hardship due to a loss in the family, bad credit, inability to get a loan — Martin said there are so many reasons these days that families may end up homeless. She said the second largest group the Education Project sees is families living in hotels.
"Often they think their situation is just temporary and they'll only be there a few nights. But that's not always the case, and living in a hotel sometimes compounds the family's problems because of how expensive that is," she said.
Stevens said the recent, national housing crisis helped shed some additional light on the issue of homelessness and has increased education on the topic. He said the stigma around being homeless is decreasing. Service organizations also are realizing homeless shelters are not the solution to the problem and are focusing their efforts on rapid re-housing, he said.
Danielle Arndt covers K-12 education for AnnArbor.com. Follow her on Twitter @DanielleArndt or email her at daniellearndt@annarbor.com.