Posted on
Sat, Mar 16, 2013 : 5:58 a.m.
Scio considers township-wide solution to fund its own road repairs
By Amy Biolchini
Scio Township is considering the development of a township-wide special assessment district to fund its own road repairs.
Officials have been discussing the measure for a long time, said Supervisor E. Spaulding Clark.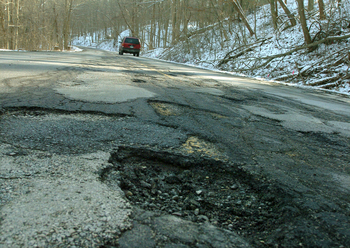 AnnArbor.com file photo
The township's roads are maintained by the
Washtenaw County Road Commission
, using funding received by the commission that is spread throughout the entire county on a schedule as the commission sees fit.
A special assessment district for the entire township would mean each parcel owner would contribute the same amount of funding to repair of a set list of road projects in the township.
It would be the first of its kind in Washtenaw County, said Roy Townsend, managing director of the road commission.
Typically, special assessment districts are created by a cluster of homeowners -- commonly in specific subdivisions -- that want to fund road repairs in their neighborhood.
The creation of a district that would encompass the entire township brings some legal questions the township and the Washtenaw County Road Commission are working out, Clark said.
Talks of increasing road funding at the state level -- if they're enacted -- will likely only translate into increased financial support for projects on state routes, Clark said.
"The state's talking more money for roads, but they're talking about primary roads," Clark said. "It certainly won't get filtered down to the roads that need it."
Townsend said the special assessment district is a good way to ensure taxpayer dollars are directed to fixing the roads that those individuals use everyday.
A county-wide millage for local road work would be difficult to allocate to each township - as cities like Ann Arbor already pay their own tax for road improvements, Townsend said.
The intent is to create a pool of funding to fix the roads that people in the township use on a daily basis, Clark said.
Initially, township officials discussed collecting $80 or $85 per year from each parcel owner in the township, regardless of the size of the parcel.
A rate of $80 would result in a pool of money totaling about $4.9 million, Clark said.
The township may be able to bond against that money as well, Clark said.
The township Board of Trustees passed an initial measure Tuesday night declaring its intent to pursue the special assessment district.
Clark and Scio Township will be conferring with the Washtenaw County Road Commission to develop a model that will work.
Public hearings and a full presentation on the special assessment district will be conducted once the township develops that model, Clark said.
Because of Public Act 188, the township could implement the special assessment district without the approval of the vote of the people.
Scio Township has drafted a list of 29 roads with a combined length of 25 miles that would be repaired using the special assessment district.
"Up front, you're going to have to tell people where there money is going," Clark said, explaining that otherwise there likely wouldn't be much support for the idea.
Gravel roads on the list include:
East Delhi Road from the railroad tracks to Miller Road
Knight Road from Scio Church to Liberty
Liberty Road from Park to Parker; from Zeeb to Stags Leap to Park
Maple Road from Stein to Daleview; from Stein to the township line
Marshall Road from Baker to Marshall Lakes Drive to Zeeb; from Parker to Baker
North Delhi Road from Huron River Drive to Eastgate
Park Road from Scio Village Court to West Birkdale to Parkland Plaza; from Zeeb to Liberty
Peters Road from Zeeb to Miller
Pratt Road from West Delhi to Wagner
Railroad Street from West Delhi to East Delhi
Scio Road from Zeeb to Dexter-Ann Arbor
Staebler Road from the pavement south to Park
Stein Road from Tubbs to Maple
Streiter Road from Liberty to Scio Church
Tubbs Road from Huron River Drive to Stein
West Delhi Road from Dexter-Ann Arbor to Miller to Railroad Street
Paved roads on the list include:
East Delhi Road from Huron River Drive to the railroad tracks
Park Road from Zeeb to Scio Village Court
Scio Ridge Road from Liberty to Upland
Staebler Road from Jackson Road south to the end of the pavement
Upland Drive from Scio Church to Scio Ridge
Roads within the village of Dexter would not be covered by the township's special assessment district, and those residents would not be asked to pay the yearly rate.
Amy Biolchini covers Washtenaw County, health and environmental issues for AnnArbor.com. Reach her at (734) 623-2552, amybiolchini@annarbor.com or on Twitter.