Scio Township residents take advantage of tax credits for renewable energy systems
Posted on Mon, Feb 15, 2010 : 6:08 a.m.
Irwin Martin had considered on-site electrical power generation ever since he bought Walnut Hill Farm in 2003.
Located in Scio Township, the 11-acre farm sits on one of Washtenaw County's highest points, and updrafts are a fact of life. A wind turbine to create current for his barn seemed like a natural fit.
Martin says the American Recovery and Reinvestment Act of 2009 made it more feasible to implement his idea. The act offers homeowners a 30-percent tax credit for the purchase of renewable energy systems.
"If I'm ever going to do it, I ought to do it now," Martin found himself saying.
After several months spent choosing a wind turbine and finding a contractor to install it, Martin saw his Skystream 3.7 system erected atop a 70-foot mast and first heard the turbine's faint hum on Dec. 12.
But before that, Martin - who serves on the township's planning commission and land preservation committee - had to go through the process of getting a zoning variance. The existing law, which was designed with shortwave radio antennas in mind, prohibited free-standing structures of more than 50-feet.
That could change. Scio Township trustees are scheduled to vote on a proposed Wind Energy Conversion System ordinance on Feb. 23.
"Unless anybody has any strenuous objections, it will probably be passed," says trustee David Read.
The ordinance will allow for roof-mounted systems reaching as high as 15 feet above an existing structure and for free-standing towers up to 70 feet tall. The towers must be on lots of at least 2.5 acres and must stand within one and a half times their own height of a property line or right of way. A 70-foot tower would be at least 105 feet from the boundary.
The so-called "shadow flicker" from the windmill's blades will also be restricted. A building permit is required to erect a tower, according to the ordinance.
Martin's tower is kept upright with the help of four guy wires. Each extends 45 feet from the and is anchored in concrete.
He says the sources he consulted estimate a 7-mile-per-hour average wind speed in Washtenaw County. The three curved blades of his sleek windmill automatically start to turn in winds of 8 miles per hour. The 7-foot-long blades are sculpted to catch the wind and keep the unit facing into shifting gusts.
After two months of operation, Martin calculates the daily yield has averaged 4.2 kilowatt hours. The range has been from zero kilowatts hours on calm days to 25 kilowatt hours on especially windy ones.
"Unfortunately there's been more zeroes than 25s," he says.
The savings is around $1 per day.
"Even with the tax credit, it's hard to justify the expense," he says of the approximately $14,000 outlay for the windmill. "Basically, you do it because you want to do something positive, to remove a few carbon atoms from the atmosphere."
The current lets him operate the ceiling lights inside the barn and the well pump for a rental house on the property. A small equipment room in the barn is heated with electric coils embedded in the concrete floor.
The windmill's output also helps to supply the requirements of the 1500-watt heater that keeps the water for his three horses from freezing.
And Martin says he notices he's more conscious than ever about shutting off the lights when they're not needed.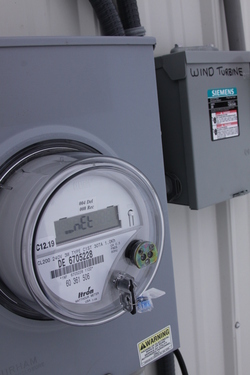 Meanwhile, in another part of Scio Township, Read had spent 11 years looking at alternative energy sources to provide electricity for his home. After consulting with the same contractor who put up Martin's windmill, he decided the power requirements exceeded the wind turbine's capability.
"I went down the solar route," Read says.
Last November he flipped the switch on the 25-panel array atop his garage. Each panel is capable of producing 205 watts "on a perfect day," he says. On the best days so far, he has seen output of 4000 watts - or four kilowatt hours - for several hours at a time.
The excess that isn't consumed on site is fed back into the grid. A "net metering system," like that at Martin's barn, keeps track of how much credit the utility company will give.
Besides panels, Read's system required only a minimum of additional specialized equipment and wiring. An inverter mounted on the outside of the garage changes the direct current streaming from the panels into alternating current for household use.
Read says his gross expenditure was about $35,000. But DTE immediately refunded 30 percent of that amount through its Solar Currents program.
And he still qualifies for the 30-percent federal tax credit on his 2009 return.
"That brings it down to $3 per watt," he says.
Like Martin, Read also says part of his motivation is altruistic.
"It would be nice if we could get out ahead of the bandwagon with this and show that at least a few of us in Scio are doing our part to save energy."