Posted on
Sat, Dec 10, 2011 : 5:58 a.m.
Q&A with Scott Westerman: MSU alumni association director talks about bowl picks and the Michigan rivalry
By Lucy Ann Lance
As the Michigan Wolverines get ready to taste the sweetness of the Sugar Bowl (January 3, 8:30 p.m. on ESPN), some Michigan State Spartan fans are feeling a little sour. Not the executive director of the Michigan State University Alumni Association, however. Granted, Scott Westerman did grow up here in Ann Arbor and graduated from Pioneer High School, so perhaps that's why he is one Sparty who takes a statewide view when it comes to college rivalries.
After the bowl picks were announced this past week, he sent this email: "Both MSU and UM are playing football in the post season! As a Spartan, I always hope we are the winners when our two teams face one another, but two great teams make both of us better competitors and better sportsmen."
Dean Erskine, and I interviewed Scott this past week on 1290 WLBY.
Westerman: I am so proud of what Coach Hoke has done in one year in Ann Arbor. I'm an Ann Arbor boy -- I grew up in the shadow of the Big House. I remember when the capacity was only 101,001.
Dean: Hey, do you remember getting in for a buck?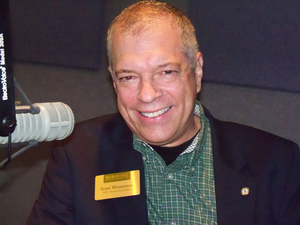 Westerman:
Yeah, well I don't know if you were a Boy Scout but there were probably times when I was on the 50-yard line sitting on the cement as an usher in those days. I'm so proud that we have two fantastic football teams playing post game bowls and actually the fact that U of M has been chosen by the BCS to play in the Sugar Bowl. What an affirmation of the turnaround that's happened down there. I couldn't be prouder of those guys.
Lucy Ann: There are some Spartan fans who are a little bit disappointed how it worked out, but it's just the way the bowl allotment fell. (MSU had the best record in the Big 10 conference, but failed to finish in the top 14 of the BCS standings.)
Westerman: Our football banquet was 24 hours after Indy (where MSU lost to Wisconsin, which now heads to the Rose Bowl), but it was not at all what I thought it would be. It really was a celebration, and part of the tradition is the seniors hand a rose to the person that has been most influential in their MSU life. There were tears, but they were tears of joy where people were talking about lifetime friendships made, about lives changed. I mean there were a few of these kids who definitely had inner city backgrounds who learned not just how to be good students, not just how to play great football, but how to be productive adults and they said that. The coolest thing was the biggest ovation of the night was for Isaiah Lewis, #9, that poor kid who got to the kicker just a second too late and got the flag thrown in the last minute and a half. Everybody stood up and cheered him like he was (MSU quarterback) Kirk Cousins, like he was a superstar.
Lucy Ann: That's the sign of true sportsmanship.
Westerman: Well I think that's what Michigan, if you talk about our state, is all about. When we're at our best, it's about making men and women who are going to be great contributors to the world.
Lucy Ann: What's your perspective on the money that factors into where these teams go, like Michigan going to the Sugar Bowl, and how much money plays into the selection.
Westerman: The greatest thing about how the Big Ten works with all of this is that we all benefit when somebody goes to a bowl. So we're going to be playing in the Outback Bowl, U of M in the Sugar, there will be money coming back to the conference from that game and that will be spread equally around all the teams. I mean that is not something that happens in other conferences. It's unique to the Big Ten and I think that's part of what makes us great.
Lucy Ann: You posted an interesting blog this week that has close to 100,000 page views now following that MSU football banquet. What did you write about, Scott?
Westerman: I wrote about what winners really are, and the reality of the world is that you can be the best and not be recognized as the best. For example, I think Denard Robinson is a very strong Heisman Trophy candidate no matter what anybody says. I mean there aren't many quarterbacks in the history of the game that are as good as he is. You know, he may not get the Heisman Trophy, but does that mean he's not a winner? I think absolutely it does mean he's a winner and that's what we can't forget about in this whole thing is that there are a lot of great programs, the rules are the rules, and this is how life works. You may play your best and it might not be good enough that day, but that doesn't mean you should stop exhibiting the behavior of a winner and living what I call "The Spartan Life." You could probably call it "The Wolverine Life," but I mean, that is what it's all about. It's about making a difference in the world, making the world a better place, and passing it on to the next generation, and that's the magic of what our athletic traditions both at Michigan and Michigan State do. For generations people have been proud of our institutions because our athletic programs are so superb.
Lucy Ann: You can't let a setback determine the entirety of who you are, and it's how you handle that setback that really tells a lot about who you are inside.
Dean: I guess if you're a fan of a school, like Michigan State for example, if you feel like you're being disrespected by the bowl committees, you just have to say, "You know what, it is what it is and it's all politics" because realistically Michigan State should have been much higher up. Nebraska should not have been picked before MSU to go to the Capital One Bowl, but again it's because Nebraska has never been there and they "travel well." If anybody is feeling like they've been disrespected, what do you say to them?
Westerman: In the first place I think respect is something that we earn every day and respect is given by people who deserve respect. I mean the kind of people who have negative comments to my blog posts are the kind of fans we do not want to have. Politics aside, I am glad we're not going to Orlando. We've been in Orlando at that venue for the last three years. I don't think the Citrus Bowl is a very big place to play football and I'm glad we're in Tampa Bay. I think it means the most to the kids, I mean, everybody wants to go to the Rose Bowl, it is a Big 10 and Pac 10 tradition. That's what it should be -- it should not be part of the BCS in my view, but, you know, that's where we all want to be. That is, for us, the Super Bowl and one of the great things that several of the seniors said is they were looking at our underclassmen, and I know this is the same feeling that's going on in Ann Arbor right now. If you look at this team Brady's building, they were looking at the underclassmen and they were saying, "We are looking forward to sitting in the stands and cheering you on in Pasadena." That is still the goal. No matter what anybody says; it's not even the BCS Championship for us in the Big Ten, it is playing in the Rose Bowl.
Lucy Ann: The Spartans will be playing in the 26th annual Outback Bowl on January 2nd in Tampa, Florida. It will be televised nationally by ABC with kick-off set for 1 p.m.
Dean: And that's one of the nicest things about it, is that they've moved the kick off of that game. It used to be the 11 a.m. game. Who in the world wants to get up that early for a football game?
Westerman: I think that is one of the more subtle things that show what a great year Michigan State has had is that No. 1, it was moved from ESPN to ABC, and No. 2, we get the Monday Night Football commentators who are doing the play-by-play. That says a lot about the kind of people they think will be attracted to this matchup.
Dean: Hey, just don't tell your friends in East Lansing that (football broadcaster) Mike Tirico lives in Ann Arbor.
Lucy Ann: Go Blue! Go Green!
Westerman: Absolutely! Go Michigan!
Lucy Ann Lance & Dean Erskine own Lance & Erskine Communications, which produces "The Lucy Ann Lance Business Insider" (M-F, 8 a.m.-11 a.m.) and "The Lucy Ann Lance Show" (Saturdays, 9 a.m.-12 p.m.) on 1290 WLBY. The programs are live streamed at www.1290WLBY.com, and podcast on www.lucyannlance.com. The above interview is a condensed version of a longer conversation that is edited for clarity. The complete audio interview is posted online at www.lucyannlance.com.