Posted on
Mon, Feb 27, 2012 : 2:57 p.m.
Searching for a sensitive man? Don't look in Ann Arbor, online dating service says
By Julie Baker
Ann Arbor may be the best city for singles, but only if you're into insensitive jerks, according to new rankings from online dating site Chemistry.com.
The site recently ranked Ann Arbor as the city where you're least likely to find a sensitive man.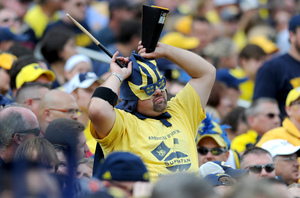 Angela J. Cesere | AnnArbor.com
The online dating site reportedly used its own data based on personality profiles of American singles to rank the cities, with Pompano Beach, Fla.; Roanoke, Va.; and West Hollywood, Calif., topping the list.
Ann Arbor's association with the University of Michigan got it labeled as a big college sports town, which affected its ranking.
"Men do have a sensitive side. They want to please. But different men do it differently; and these 10 cities are packed with a certain kind of man, what I call BUILDERS — men who express a constellation of personality traits linked with the serotonin system in the brain," said Dr. Helen Fisher, Chemistry.com's chief scientific adviser.
She described a sensitive man as one who "wants to do the right thing." Sensitive men also deeply value loyalty, duty, respectability and proper moral conduct.
Do you agree with this ranking?