Posted on
Sat, Mar 30, 2013 : 5:58 a.m.
Volunteer group revamps used prom dresses to sell at a lower price
By Kody Klein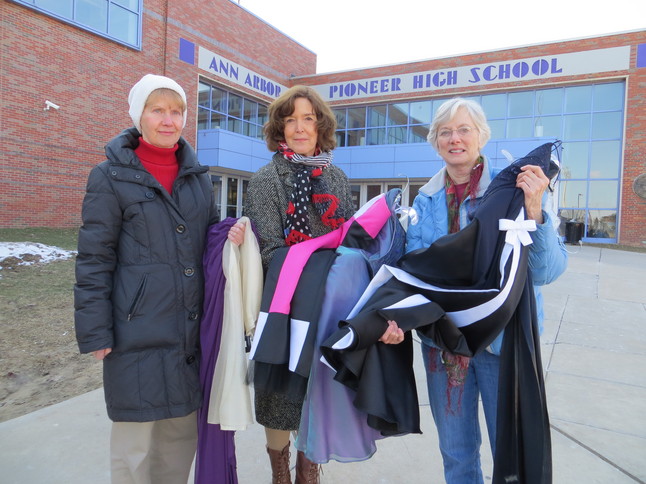 Kody Klein I AnnArbor.com
Prom dresses often fall victim to a Cinderella-type tragedy — cherished for one night, but by morning they're treated as day-old news and seldom worn again.
Jan Wery wanted to change that, so she and several of friends started the Prom Dress Project, which collects used prom dresses, launders and repairs them, and resells them for $15 or less. Wery said the project prices the dresses to cover expenses.
"I just thought that we could collect dresses that girls didn't want to wear a second time," she said. "This is a way to make sure somebody else gets a beautiful dress."
Jill Ripley, one of the project's volunteers, said the dresses are meant for girls who might not otherwise have the means to get a dress.
"This gives a chance for some girls who couldn't afford a dress, [to have] a nice dress," said Jill Ripley, one of the project's volunteers.
Wery said she can take used dresses and make them look new by lifting stains and mending seams as needed.
"Even if these dresses are donated flawed, we can restore them," Ripley said. "We'll accept everything."
This is the project's first year and hit is limited to Pioneer High School, Skyline High School, Huron High School and Ann Arbor Technological High School. Dresses are being collected at the schools' counseling offices, along with shoes and accessories.
Patricia DeLamielleure, one of the project's volunteers, stressed that this initiative could make prom more socially conscious and eco-friendly.
"It's about consumption and a throw-away society," she said. "We buy and then we toss it…[This project] curtails that consumption waste cycle."
The dresses will be sold at a weekend sales event from 3 to 7 p.m. on April 13 and 1 to 4 p.m. on April 14. The event will be hosted by Darling Brides Showcase and Tuxedos, 5204 Jackson Rd, Scio Twp. Anyone who donates a dress to the project will receive a coupon for a new dress from Darling Brides.
This year, the used dresses will only be sold to students from the participating schools, so anyone who wishes to buy one must present a valid school ID.
"In a few years, I would love it to be big enough that anybody could walk in at anytime and have a dress for nothing," Wery said.
Kody Klein is an intern for AnnArbor.com. Reach him at kklein@mlive.com