Posted on
Tue, Sep 27, 2011 : 1:43 p.m.
Second rabid skunk found on Ann Arbor's West Side
By Juliana Keeping
A skunk that had a run-in with a dog on Ann Arbor's West Side has tested positive for rabies, the Washtenaw County Public Health Department announced today.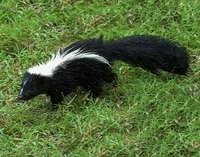 From the Grand Rapids Press
It's the
second skunk to be found with the fatal virus
in
Washtenaw County
since 2005 and the fifth animal this year.
Susan Cerniglia, the public information officer for the health department, said the numbers are typical for this time of year.
The skunk is the second to test positive for rabies following an encounter with a dog on the West Side, Cerniglia said. There was no human contact with either skunk.
It's a good reminder to make sure pets' vaccinations are up to date, Cerniglia said.
Two rabid skunks on the West Side does not indicate an outbreak, she added.
"If you're talking about the city of Ann Arbor versus outlying areas, there are more people and more chances for encounters," she said.
Read more about the symptoms and signs of rabies here.
To make a report or ask questions about an encounter with a potentially rabid animal, the health department can be reached at 734-544-6700. Evenings, weekends and holidays, a communicable disease on-call nurse is available at 734-891-4327.
Juliana Keeping covers general assignment and health and the environment for AnnArbor.com. Reach her at julianakeeping@annarbor.com or 734-623-2528. Follow Juliana Keeping on Twitter