Secretary of state candidate Jocelyn Benson calls on help from University of Michigan students
Posted on Fri, Sep 17, 2010 : 6:04 a.m.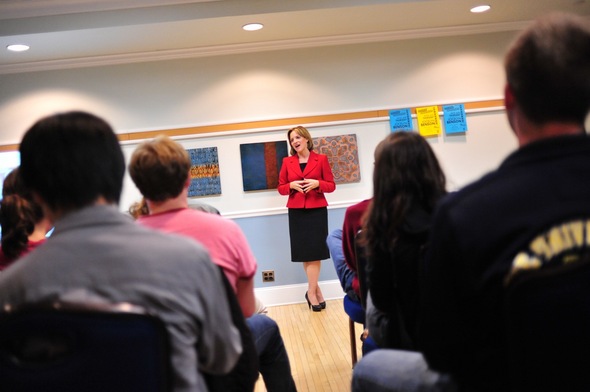 Ryan J. Stanton | AnnArbor.com
Michigan secretary of state candidate Jocelyn Benson borrowed a page from the playbook of Virg Bernero on Thursday and showed up unannounced at the office of her opponent, Oakland County Clerk Ruth Johnson, to pressure her into setting a date to debate.
Benson, a Democrat, walked away empty handed, but later on Thursday the two sides apparently agreed to meet next week to work out a deal.
Benson, a Wayne State University law professor who has accused her Republican rival of ducking invitations to debate, made a stop in Ann Arbor Thursday night to talk about her campaign with the College Democrats at the University of Michigan.
"The real secret weapon of our campaign is all of you," she told the crowd of about 60. "Just like in 2008 when your generation elected a president, in 2010 you will have an opportunity to ensure that the next generation of leadership in Michigan is one that can directly help you."
A new poll shows Michigan Republicans are ahead in races to keep control of the offices of attorney general and secretary of state in the 2010 election.
In the race for attorney general, former appeals Judge Bill Schuette, a Republican, leads his Democratic rival, Genesee County Prosecutor David Leyton, 39 percent to 25 percent, with 31 percent undecided, according to the survey of 600 likely voters.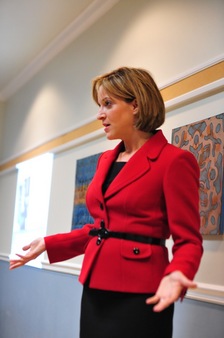 Ryan J. Stanton | AnnArbor.com
Johnson leads Benson 31 percent to 25 percent in the secretary of state race, with 39 percent undecided, according to the poll. But voters aren't well educated about the candidates yet — only one in four voters surveyed had heard of Johnson or Benson.
Benson commented on the poll during her stop in Ann Arbor, noting that the two Republicans currently lead among all age groups — except among young people. Benson was ahead among voters under 40, while Leyton was ahead among voters under 30.
Benson noted that she quickly is closing the gap in the polls.
"A week ago it was 15 points, now it's a 6-point difference," she said. "And the key to winning, for both Democrats and for our own campaign, is going to be young voters turning out."
Benson, a Detroit resident, told U-M students that's where they will play a crucial role in the next six weeks leading up to the Nov. 2 election. She mentioned that her husband, Ryan Friedrichs, is a U-M graduate and actually started Voice Your Vote, a commission of the Michigan Student Assembly that engages in outreach and gets students registered to vote.
"With young people working together with our campaign, we will win," Benson said. "And that's how I want to win. I want to win with the student generation. We all have a stake in Michigan's future, a real stake. We need to see the state turn around. We need to ensure that this is a state where you can stay and invest and work. Michigan used to lead the way in so many things."
Republican Secretary of State Terri Lynn Land has been in office for eight years. She was elected in 2002 with 55 percent of the vote and reelected in 2006 with 56 percent.
Benson criticized Land's track record and promised to be "someone who's going to fight for voters." She said she would fight fraud and end deceptive practices with elections in Michigan, and would work to promote accountability and transparency in government by supporting no-reason absentee and early voting and increasing disclosure of campaign contributions.
Benson told students she specifically would work to repeal Rogers' Law, which requires voters to have the address listed on their driver's license match the address on their voter registration card. The law is seen by many Democrats as a barrier to voting for college students. Proponents of the law, however, say it alleviated complicated voter registration lists.
Benson's Record
Successfully led an effort in 2007 to block the closing of a Secretary of State branch office near Saginaw, convincing the U.S. Justice Department that the closure violated the Voting Rights Act.
During the 2008 election, was called to testify before the U.S. House Judiciary Committee, where she called on Terri Lynn Land to ban the use of foreclosure lists to challenge voters' eligibility on Election Day.
Developed and supervised two statewide nonpartisan election protection efforts in Michigan in 2007 and 2008.
State Rep. Rebekah Warren, D-Ann Arbor, has introduced legislation to repeal the law multiple times. The bill has failed to get past the Republican-controlled Senate.
"We need to ensure that all of you can choose to vote where you live and where you reside," Benson told students. "And if you want to register to vote at your college, you should be able to do so without having to change your driver's license address."
Benson said she would create a youth advisory council on which college students would serve. She said she would meet with them regularly to get feedback on important issues.
Benson also said she would create mobile branch offices that would go to universities and register students to vote and provide easier access to licenses and other state services.
In her campaign literature, Benson vows to eliminate unfair drivers fees, investigate overcharging of licensing fees and allow opportunities for multi-year license plates.
She also promises to improve customer service at secretary of state branch offices by creating a "Plan Ahead, Skip the Wait" program to allow residents to make an appointment ahead of time. Another program she proposes involves opening "job service centers" in branch offices with information on job openings and starting new businesses.
Benson, who holds a law degree from Harvard, began her career as an investigator for the Southern Poverty Law Center, investigating hate groups and hate crimes throughout the country. Today she teaches election law at Wayne State and has authored a book on the role of the secretary of state in enforcing election and campaign finance laws.